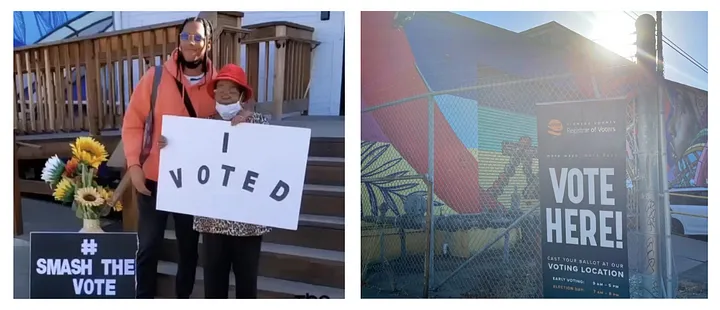 Today on #NationalVoterRegistrationDay we're doubling down on our efforts to support civic engagement organizations to help combat voter suppression tactics scaled by tech platforms and increase voter turnout in areas with a history of drop-off voting during midterms.
Here's why:
With high levels of mis/disinformation narratives disproportionately targeting voters of color through tech platforms aimed at suppressing votes at scale, this midterm election may be one of the most critical elections for the future of our civil liberties. This year's midterm is already raising concerns about how tech platforms are preparing to handle election integrity concerns. At the same time, grassroots organizations working on civil rights issues such as voter protection efforts continue to adopt and leverage tech more and more themselves.
However, the deep, sophisticated strategies leveraging tech and policies by extremist sides to undermine voter integrity and ultimately democracy raises severe concerns for communities of color across the nation.
In order to do our part as a private foundation working at the intersection of racial justice & technology, the Kapor Center has been supporting the mobilization of civic engagement of communities of color — online & offline. Through an additional $1.5M in 2022, we are also directly contributing to the building of infrastructure to not only tackle the negative impacts of mis/disinformation scaled through tech platforms but also ultimately to support grassroots communities in the development of infrastructure to protect digital and civil liberties.
This is why funding grassroots trusted messenger organizations are especially needed in this midterm cycle, where we are seeing additional interconnected barriers such as a depressed voter progressive base, restrictive laws causing confusion, and varying voting days creating barriers for centralized communications. Midterms historically have lower voter turnouts; however, due to tech platforms and high barriers, this midterm is impacting key voter groups including Black, Latinx/e (Spanish speakers), and youth voters in varying ways.
With new laws aimed at voter suppression in effect, which vary by state, we anticipate additional barriers during this voting cycle, including:
Supporting trusted messengers before, during, and after elections will be critical to protecting civil liberties.
Here are 3 things YOU can do today:
Register yourself and help 5 others in your family, community, and social circles do the same.
Are you already registered? Check your registration here.
Make a plan to vote and familiarize yourself with your polling location.
Want to do more?
Learn more about the organizations below & their volunteer opportunities:
Centro por la Justicia
Faiths United to Save Democracy
Lawyers Committee for Civil Rights Under Law
National Coalition on Black Civic Participation
We will keep updating this post with additional volunteer opportunities & events.