75+ Kapor Capital Founders Celebrating Transformative Ideas and Gap Closing Companies
On September 8, 2022, we kicked off our Kapor Capital Founders' Summit at the Flamingo Resort in Santa Rosa, CA. We brought over 75 Kapor Capital founders and CEOs together for one day of networking to learn, build, and connect.
The summit began with an opening welcome from Kapor Capital Co-Managing partners, Ulili Onovakpuri and Brian Dixon and continued with inspiring panels, enriching fireside chats, and educational breakout sessions.
"We are underrepresented founders building the impossible and changing the world. Being surrounded by these people is super helpful. We don't have a lot of examples of people who have done this before so to put us all in a room, shows us that things are possible." — Kai Frazier, Founder, Kai XR
Founders heard from industry experts on how to manage in challenging circumstances, acquisitions, building a values-driven company, DEIB, managing a hybrid team, marketing, and practical takeaways to implement in their own companies.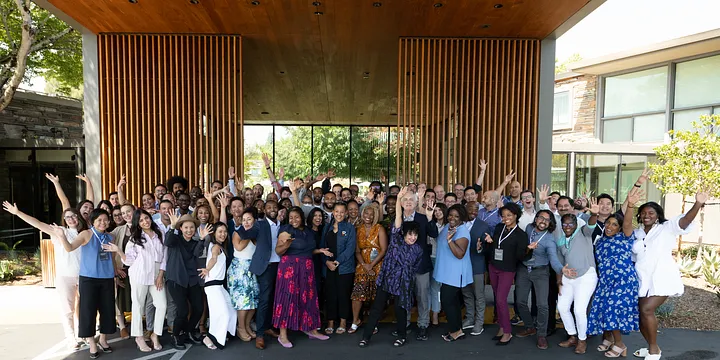 "Being a startup founder and being in the same room and seeing how other people handle challenges, celebrate different milestones, and lean on each other is needed. The session here have been very impactful." — Fred Burns, Founder, Safer Management
Since 2011, Kapor Capital has invested exclusively in "impact" startups, a turning point for us and the industry. Co-Managing Partners Brian and Ullili were also excited to introduce the 2022 Kapor Capital Impact Report, providing an in-depth look into the firms' practices, initiatives, and the positive progress our companies, many in attendance, had over the past year.
Attendees were also in for a treat when they received a sneak peek of the launch of Upside Tech Alliance, formed by Kapor Capital portfolio founders, Donnel Baird of BlocPower, Phaedra Parks of Promise, Jake Soberal & Irma Olguin, Jr. of Bitwise Industries, and Davida Herzl of Aclima. The Upside Tech Alliance partners with local leaders to unlock technology's potential to serve the public good and drive economic growth.
It was truly inspiring to be in a room filled with mission-aligned founders and CEOs all working to create new economic opportunities and confront inequalities across every sector.
Click here to view more photos from the 2022 Kapor Capital Founders' Summit.