2016 Oakland Summit on Blacks in Tech
October 15, 2016 @ 8:30 am

-

1:30 pm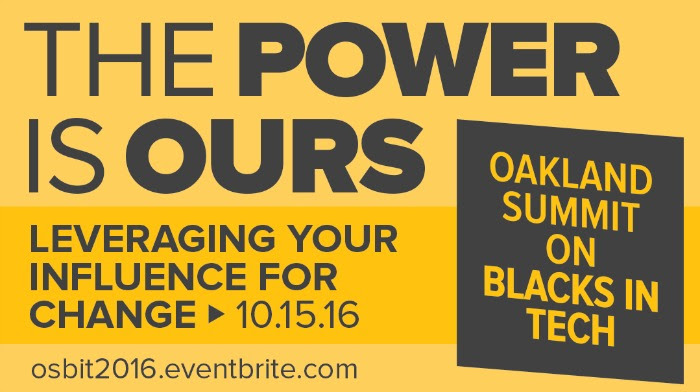 DESCRIPTION
We're in the midst of another year of powerful Black activism during this, the 50th Anniversary of the Black Panther Party. The second annual Oakland Summit on Blacks in Tech will focus on how Black employees of tech companies can best harness individual and collective power to make beneficial change. Join us for three strategy- and tactic-filled sessions. Get your life and help others get theirs.
AGENDA
8:30am Breakfast
9:00am Welcome and Opening Remarks
SPECIAL PRESENTATION in celebration of the Black Panther Party's 50th Anniversary!
9:30am Session I: Getting Organized on the Homefront
Successful movements build internal capacity before effecting external change. Internal capacity development for Blacks folks in tech follows three progressions: 1) fortifying your financial foundation to permit greater agency, 2) exploring individual tactics for activism within your company, and 3) creating social justice organizations within your company. This session will share insights on all three.
Presenters: Anthony Heckman (Kapor Capital*). Moderated by Darrell Jones III (Clef*).
10:30am Session II: Sustaining a Movement Needs More than ReTweeting
On a daily basis, organizers are working online and in person to push for positive change in and for black communities. Learn more about a sample of these efforts and how you can bring your considerable talents to advance causes locally and nationally.
Presenters: Brandi Collins (Color Of Change.org), Donna Bransford (Black Organizing Project), Tiffani Ashley Bell (The Human Utility). Moderated by Cedric Brown (Kapor Center).
11:30am Session III: Caring for Ourselves so We Can Care for Others
Recently, prominent sports figures such as Colin Kaepernick have started to leverage their public positions to advocate for social justice. In tech, African Americans are looking to do the same, advocating for more diversity in the industry and supporting causes such as Black Lives Matter. Whether it's extra time in the office or strained relationships with co-workers, such work comes at a cost.  As such, self-care is important. We must take care of ourselves so that we can take care of others. After this session, you will be able to examine your current habits and determine ways to change your lifestyle to develop a better work-life fit.
Presenters: Elen Awalom (Ola Initiative*), Vanessa Mason. Moderated by Y-Vonne Hutchinson (ReadySet).
*Affiliations listed for reference only.
12:30pm Snacks & Closing Remarks
1:00pm Adjourn & Networking
For more information: Click Here