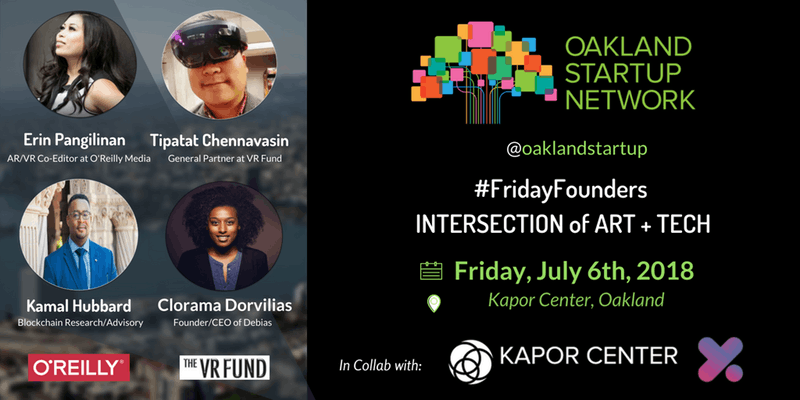 1st Friday Founders Fireside Chat – Art Meets Tech
July 6, 2018 @ 5:30 pm

-

8:00 pm
Join us for an interactive discussion on the Kapor Center rooftop around the intersection of art and tech. Our July session will be moderated by Erin Pangilinan of O'Reilly Media and panelists: Kamal Hubbard, Clorama Dorvilias, and Megan Maloney. Our special guests bring a wealth of knowledge around art, the blockchain, investments, and AI/AR/VR.
There will also be AR/VR activations by local artists to further engage the community and bring our space to life! Oculus Go headsets by Facebook will be provided for use at each station.
MODERATOR | Erin Jerri Malonzo Pangilinan
Erin Pangilinan is a proud Silicon Valley native, born and raised, a computational designer, artist, and software engineer hybrid, entrepreneur, author, educator. Currently, she works as lead co-editor and contributor of the O'Reilly collective anthology, Creating Augmented and Virtual Realities (March 2019 release), focused on teaching cross-platform software development of immersive and emerging technology. Additionally, Erin is an angel investor and adviser to stealth companies including the areas of data science, biotech, healthtech, Artificial Intelligence (AI), Augmented Reality (AR) and Virtual Reality (VR), eSports, cryptocurrency, and blockchain. Erin has been selected as a Diversity Fellow at the USF's Data Science Institute in the Deep Learning program, this year's cohort of Oculus Launchpad and in Mozilla's XR Studio summer program for female creators focused on machine learning and VR. Her edtech and arts app, BaybayinVR revives, teaches, and preserves ancient Filipino sanskrit through a fusion of artistic creation tools, immersive storytelling, and novel Natural Language Process, and Computer Vision techniques.
In 2015, Erin co-founded 2 national professional development and education organizations, ARVR Academy, focused increasing representation of women and underserved communities in immersive and emerging tech, and Filipino Americans in Science Technology Engineering Arts and Math – Silicon Valley (FASTER). In her prior career, she worked as official electoral campaign staff to elect then-candidate, now Congressman Ro Khanna (California Congressional District 17, former U.S. Deputy Secretary of Commerce) and co-founder of Tech For Obama, Steve Spinner on digital strategy, finance, ethnic media, and Filipino American voter outreach. Erin earned her BA from UC Berkeley with honors.
PANEL | Kamal Hubbard+Clorama Dorvilias+Tipatat Chennavasin

Tipatat Chennavasin has extensive experience creating both interactive VR/AR and 360 videos. He became convinced of the power of VR when he accidentally cured himself of his real-life fear of heights while developing in VR. He has established himself as VR/AR industry spokesperson and thought leader, and has contributed to many publications and presented at various industry events, He also has entrepreneurial experience as co-founder and CEO of mobile game startup Big Head Mode, Inc. that he sold to PlayFirst to focus on VR. He is an advisor for many VR companies as well as a mentor for VR incubators and accelerators around the world, including Tokyo VR Startups, http://tokyovrstartups.com/.Mr. Chennavasin obtained his BS from Stanford University in Symbolic Systems with a concentration in Human-Computer Interaction.
Kamal Hubbard is a blockchain researcher and advisor. He began his exploration of blockchain technology in 2013 after learning about Bitcoin while conducting research on Corporate Governance issues at Stanford University. Mr. Hubbard went on to steadfastly watch the cryptocurrency markets and its patterns of fraud and losses. Kamal began advising blockchain projects in 2016 after joining the Tao Network, a blockchain project focussed on preserving the rights of musicians in an age where streaming services were not paying artists an equitable share of their proceeds.
Clorama Dorvilias, Founder/CEO of Debias, pioneered VR for accessible bias training at the University of the Arts London, while researching technological solutions for reducing social bias in the tech workplace for her MA Thesis. In the summer of 2015, she created the first VR debiasing game for the Oculus DK2 and since worked to create numerous anti-bias VR experiences for the London Neuropsychology Clinic, University College of London and Hyphen-Labs. Her work expands institutions in healthcare, civic tech, law enforcement and the tech industry. In 2017, she was a selected winner for Oculus Launch Pad along with co-creator/founder Jessica Outlaw for Teacher's Lens. She launched the start-up Debias VR specializing in delivering research driven debiasing protocols for corporations and education institutions, leveraging immersive VR training. Debias VR aims to disrupt the bias training sector with impact driven, engaging, and sustainable inclusive behavior training.
PLEASE RSVP AND ARRIVE EARLY. DOORS CLOSE AT 7PM