ILAB RESIDENCY
INNOVATION LAB (ILAB) OAKLAND IS A THREE MONTH RESIDENCY BUILT TO CAPTURE OAKLAND'S CONSTRUCTIVE, COMMUNITY-CENTERED SPIRIT TO SERVE UNDERSERVED COMMUNITIES THROUGH TECH, POWERED BY THE KAPOR CENTER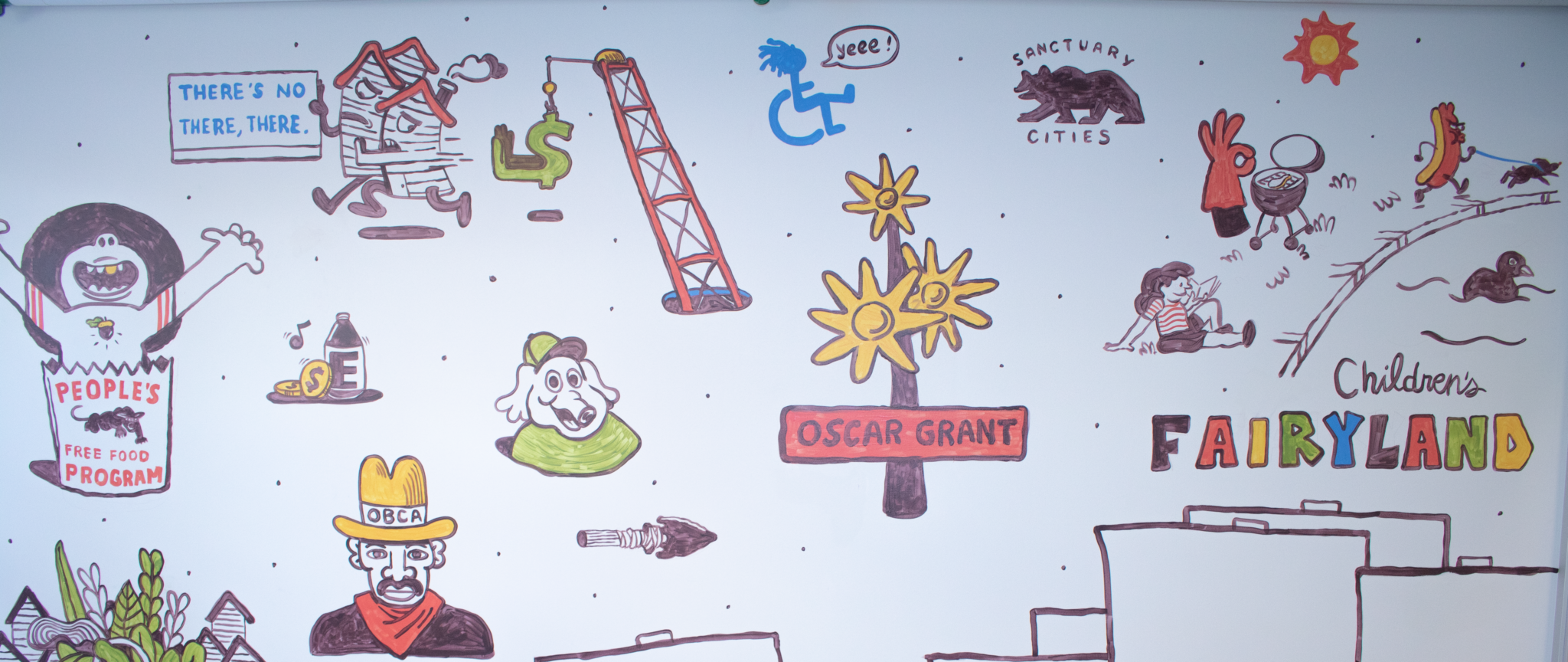 WHY OAKLAND
Oakland is a unique space for growth as it carries a history and culture of community orientation, intersectional activism, and a grassroots approach to solving local issues. Silicon Valley boasts ideas of disruptive innovation and radical solutions; However, Oakland keeps it real as a leader with a reputation & history of disruptive social change. Oakland's local talent and entrepreneurs could have unprecedented opportunities in our growing innovation economy if tapped in. In order to unlock equitable opportunity for our community, we all have an imperative to do tech right by acknowledging and dismantling community barriers – in order to fully thrive as one community.
ILAB OAKLAND IS FOR OAKLAND COMMITTED FOUNDERS SEEKING A SPACE & COMMUNITY TO GROW THEIR TECH INITIATIVES, WHETHER YOU ARE FOR-PROFIT OR NON-PROFIT
ILAB OAKLAND BENEFITS
Basic benefits include, but are not limited to:
Three month rent-free space, with opportunity for renewal, nested within the Kapor Center in Uptown, Oakland
1:1 Coaching focused on financial sustainability
iLab peer check-ins focused on feedback, collaboration, and accountability
Support from City of Oakland to navigate city guidelines and to take advantage of available resources
Access to key insights from community leaders
Opportunity to implement a local Oakland project
Access to a community of individuals committed to building inclusive tech solutions
Access to relevant professional development opportunities to learn and network within the community
Relevant programming focused on community, self care, and business development
iLab Demo Day participation
Alumni network and programming
RESIDENCY EXPECTATIONS
Commitment to hiring a diverse and inclusive team as you grow your organization
Commitment to both iLab and greater East Bay community
Full-time commitment to your organization/initiative/startup
Six volunteer hours with the Kapor Center or nonprofit mission aligned partner organizations
Participation in orientation day and bi-weekly check-in
APPLICATION PROCESS
Our next application cycle will be in Fall 2019. Fill out our application and we will contact you when we open the process with details!
We are looking for underrepresented founders of a company/organization creating social impact through tech who need a place for community.
Founders committed to serving underserved communities with a tech lens
Members with a full-time commitment to their organization
Organizations past the idea stage in their development
Needs for space
Preference given to organizations committed to serving the East Bay
Preference given to underrepresented founders
Meet our iLab RESIDENTS
We are proud to host these innovative change-makers at our home in Oakland, CA
WANT TO LEARN MORE ABOUT OUR OTHER INITIATIVES?