Startup Weekend Oakland – Latinx Tech Edition
October 21, 2016 @ 6:00 am

-

October 23, 2016 @ 9:00 pm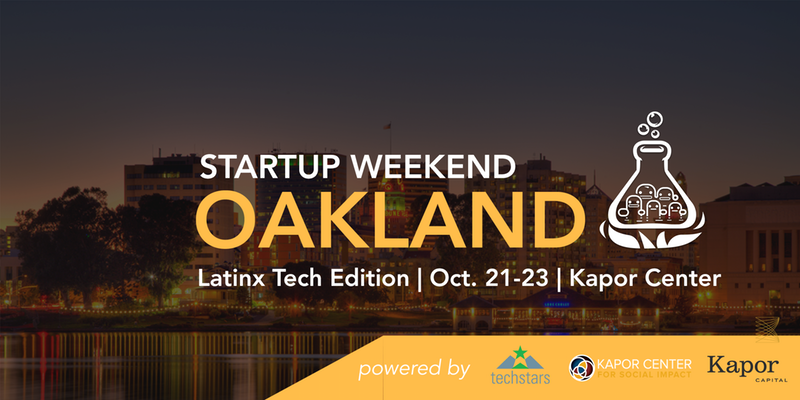 Description
The complex intersectionalities of the Latinx (La-teen-ex) population in the U.S. coupled with their increasing technology consumption make this ethnic group one of the most misunderstood, yet powerful communities of our time. By 2060, over a quarter of the entire U.S. population will be Latinx – that's about 119MM people – representing over a trillion dollars of economic power.
As of 2013, Latinx Millennials and Gen-Z comprised 58% of the Latinx population. These groups are proving to be a game-changing consumer segment across markets because of the way they are influencing their communities across race, culture, politics, gender identity and language — case in point, the term Latinx.
Imagine what could happen if we gathered 100 entrepreneurially-minded Latinxs and allies over 54 hours to identify and design technology solutions to problems disproportionately facing the U.S. Latinx community? What if we facilitated mentorship by some of the most talented technologists, business innovators, and prominent investors?
And, what if this social experiment was hosted in Oakland, one of the most diverse, activist, and innovative communities in the nation?
This is why we are re-launching Startup Weekend Oakland and organizing the first ever Latinx in Tech Edition. Are you up for the challenge? We are and we look forward to having you join us October 21-23 as the East Bay and San Francisco Bay Area tech ecosystems come together. 
Need based scholarships available – Please use SW15 for $15 ticket for all 3 days! We are subsidizing the cost for a limited time – Register by 10/9!   Questions – email us at oaklandlatinx@startupweekend.org
Stay tuned for special guests to be announced! This Startup Weekend Oakland edition is sponsored by Kapor Capital and Kapor Center for Social Impact. For all event details, please visit Startup Weekend Oakland Event page here