Startup Weekend Oakland: Hacking Bias
October 7, 2016 @ 6:00 pm

-

October 9, 2016 @ 9:00 pm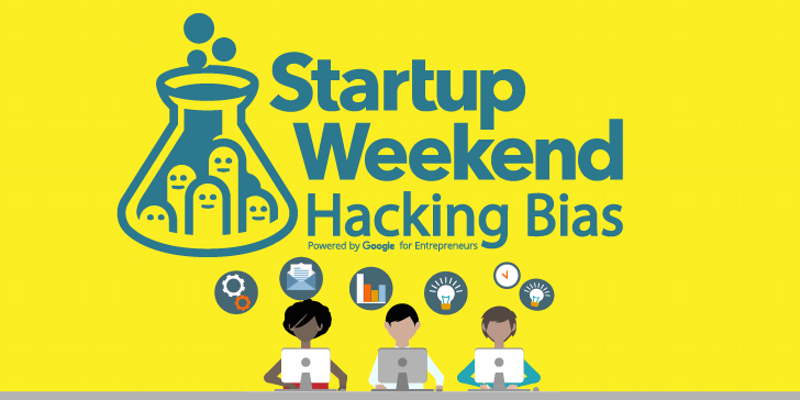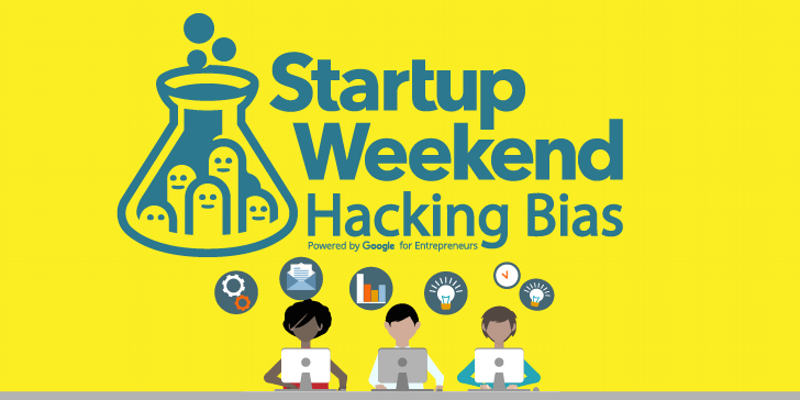 DESCRIPTION
Tech Solutions to Tech's Diversity Problems!
Do you think diversity in tech is a problem? Do have an idea or want to explore tech solutions to hack bias in the workforce while being mentored and networking with startup experts and VCs? We want to help you succeed, with mentors such as:
And hear from our keynote speaker Friday night,
Erica Joy Baker
, Engineer at Slack and prominent voice and thought leader in diversity & inclusion and expanding access to tech education!
Also have your concept judged by industry experts such as:
and more!
With one startup winning a Grand Prize of:
–
3 months of VC mentorship
 with Kapor Capital (6 sessions), including Partners, and one with VC legend
Mitch Kapor
, Kapor Capital Partner and seed-stage investor in Uber, Twilio, Dropcam, Asana, and founding chair of the Mozilla Foundation.
Join us in Oakland on the weekend of October 7th to turn your diversity ideas into action in 54 hours in an inclusive and diverse atmosphere! For more information on judges, mentors, and a detailed schedule, click
here
. There are also community scholarships available for $5 for the weekend! Parking and transportation info
here
.
You've seen the tech diversity numbers
. You've heard and read about the issue. Don't you want to do something about it? We need innovative tech solutions to fix the workforce's bias problem, particularly within tech companies. Along every step of an employee's lifecycle, from interview to promotion, biases and barriers can creep in and affect decision-making. Software can help extend opportunities to people of color, females, LGBTQ-identifying popualtions, and other underrepresented minorities. And you can build it!
Is there a market for these sorts of offerings? Well, the human resources software (or people operations) space is now a $15 billion industry, growing 60% in the last 5 years, with $2.4B in investments flowing into the sector in 2015, and with at least two unicorns (Gusto and Zenefits).  Per
CB insights
, major investors in the people ops space include Kapor Capital, 500 Startups, Google Ventures, Andreessen Horowitz, and more!
We invite you to explore what's possible and meet your potential next investor! We're looking for passionate designers, developers, community members, and business/non-profit professionals who want to make a difference and improve diversity in tech companies. Come learn the basics of founding and launching a successful people operations venture, while solving real problems in tech. You can participate just for the experience—serious creative thinking, inspired work, and a lot of fun!
Format:
Anyone is welcome to pitch their startup idea and receive feedback from their peers.
Teams form organically around the ideas and those that have the most popular votes or team members carry on past Friday night. Each team must have at least three people.
Leading researchers will present recent findings on the leaky pipeline and unconscious bias.
What follows is a 54 hour frenzy of business model creation, coding, designing, and market validation.
The event culminates with presentations in front of local entrepreneurial leaders which presents another opportunity for critical feedback.
Whether entrepreneurs found companies, find a co-founder, meet someone new, or simply learn a new skill that stretches them beyond their usual 9-to-5, everyone is guaranteed to leave the event better prepared to navigate the chaotic but fun world of startups.
About Startup Weekend: 
Startup Weekend is a global grassroots movement of active community leaders and entrepreneurs who are learning the basics of founding startups and launching successful ventures. Startup Weekend organizers and facilitators can be found in hundreds of cities around the world. From Mongolia to South Africa to Canada to Brazil, people around the globe come together for 54 hour workshops to pitch ideas, form teams, and start companies to change their lives as well as those around them.
About the Research: The Leaky Tech Pipeline framework illuminates how bias and barriers affect each step along the pathway to becoming a software engineer, tech employee, or tech founder. Barriers and biases affect the outcomes at each stage, and result in the cumulative disparities seen in the tech industry. The framework takes into account education, demographic, and industry data and incorporates social science research on bias, inequity, and disparities. The pipeline itself consists of multiple broad stages (e.g., K-12 education, college, career entry, career advancement) and describes disparities in tech as a complex and systemic problem.
Refund Policy:  No refunds will be granted within 7 days of the event if food and drink have already been ordered. Apologies for any inconvenience this may cause.
Terms of Participation Agreement: It is our job to provide you with an incredible networking and learning opportunity. Our intention is that you meet some amazing people that you might actually start a company with, build relationships with coaches, and learn from your peers. The event is intended to be a collaborative forum for sharing, learning, building, and having fun. As such, by registering as a participant, you acknowledge that any ideas shared by you or anyone else over the course of the event are contributions to the overall experience and community. If you as a participant are worried about someone stealing your ideas, please reconsider your participation in the event itself or simply refrain from sharing specifics about your idea.
As a member of your startup community, you agree to to be inclusive of any and all people and their ideas. You agree to act professionally, treat everyone with respect, and treat the event facilities with proper care. You agree that you are responsible for any accidents or damages that you cause. You also agree to not hold Startup Weekend, your local volunteer team, or any of the event supporters liable for any loss, damage, injury, or any other unforeseeable incident.
By Participating at the event, you grant Startup Weekend permission to capture photo/video of the event. You can find the exact legal terms on our FAQ Page but to summarize, we want to share your success with the world.
By submitting your information above you agree to the Techstars website's Privacy Policy, and you consent to receive email communication from Techstars and its programs about events and updates that may interest you.