"Documented" Film Screening and Interview with Jose Antonio Vargas
January 28, 2014 @ 7:30 pm

-

9:30 pm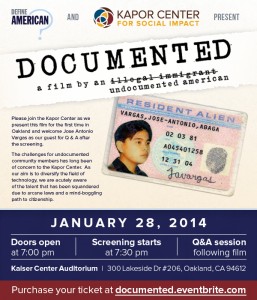 In 2011, Pulitzer Prize-winning journalist Jose Antonio Vargas outed himself as an undocumented immigrant in an essay published in the New York Times Magazine. Documented chronicles his journey to America from the Philippines as a child; his journey through America as an immigration reform activist; and his journey inward as he re-connects with his mother, whom he hasn't seen in person in over 20 years.
Please join the Kapor Center as we present this film for the first time ever in Oakland and welcome Jose Antonio Vargas as our special guest for a Q & A session after the screening.
The challenges for undocumented members of our community have long been of concern to the Kapor Center and our sibling organization, Level Playing Field Institute.  As our collective aim is to diversify the fields of science and technology, we are acutely aware of the talent that has been squandered due to arcane laws and a mind-boggling system to citizenship.
Please join us on January 28 as we explore this issue in our own community and beyond.
Doors open at 7 pm, screening starts at 7:30 pm.