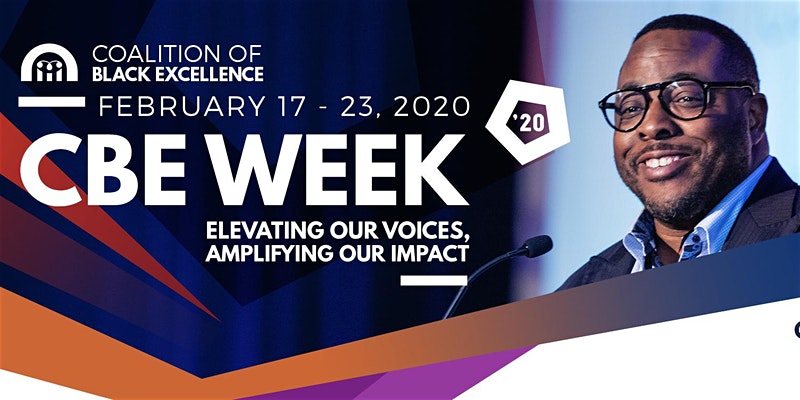 CBE Summit 2020 & Code Black Gala
February 20, 2020 @ 2:30 pm

-

February 21, 2020 @ 12:00 am
CBE Summit '20: Elevating Our Voices, Amplifying Our Impact
Day 1: Thursday, February 20 – 2:30pm – 8:00pm
Day 1 is CBE Connect, the Summit's focus on business development. This day will consist of a Pitch Competition with cash prizes for winners, Legal Pitch Day where in-house counsel are provided an opportunity to be matched with Black attorneys to explore hiring opportunities, and Supplier Diversity Fair where local Black businesses are promoted and corporations have the opportunity to meet their supplier diversity goals.
**A summit ticket offers you the opportunity to observe the Pitch Competition or participate in the Supplier Diversity Fair. A separate application process is required for participation in the Legal Pitch Day or to compete in the Pitch Competition. If you are interested in participating in either, please visit our CBE Connect page here.
**Upload your resume for the 2020 Career Fair here.
Day 2: Friday, February 21 – 9:00am – 7:00pm
The CBE Summit brings together Black professionals across a variety of industries for a unique, well-rounded educational and networking experience. It is the one-stop-shop of Black Excellence. Day 2 will cover five professional tracks featuring vibrant keynotes and panels with Fortune 500 executives and board members, government officials, leading activists, health professionals, and entrepreneurs. Attendees can also participate in the Career Fair by uploading their resumes for the resume book or meeting with sponsoring companies are eager to recruit and retain top talent.
3rd Annual Code Black Gala
Saturday, February 22, 2020 — 6:30pm – 12:00am
The Code Black Gala is a fun-filled night celebrating Black excellence, building community, and recognizing CBE's Impact Nonprofits, trailblazers who are positively impacting the Black community. This unforgettable elegant black-tie experience provides the opportunity to network and party with an impressive crowd of Bay Area professionals, philanthropists, and style icons. Gathered together at the Atrium and Waterfront Lounge, guests will listen to performances from top artists and attend an "Up Close and Personal" concert with our featured musical guest.
Each year the Code Black gala features local nonprofits that uplift communities of color, with a goal to inspire increased engagement across the myriad of organizations represented in CBE's constituency. For this year's gala, CBE is shining a spotlight on 4 local nonprofits dedicated to criminal justice reform. Each nonprofit will be featured at the Summit and Gala and donated funds from the proceeds CBE raises in sponsorship and donations.