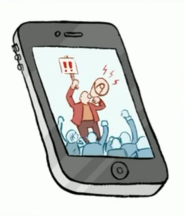 This opinion column, Virtual Becomes Personal, is hot off the press in the July 1 issue of The NonProfit Times. I think the last paragraph is particularly relevant to the Foundation's future direction:
The nonprofit community would do well to pursue three recommendations toward a unified goal of strengthening advocacy campaigns. First, traditional and digital organizers need to emerge from their respective silos and come together in forums to learn from each other how to leverage both forms of advocacy. Second, nonprofits should incorporate both traditional and digital organizing within a coherent strategy to broaden and deepen public participation, either developing the capabilities themselves or negotiating partnerships with others. Third, private foundations and nonprofit research institutions can add value to the field by undertaking more systematic research around the possibilities of digital organizing and online advocacy.
Read the entire article here (pdf). More details about our development will be forthcoming in the fall.