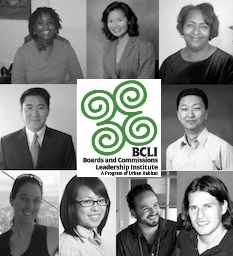 Soon after college, I was taught and trained in a model of community organizing that had five core elements: base-building, campaigns, organizational development, alliance-building, and leadership development.  This last element, leadership development, has since been an area of work within the social justice field where I've found that I can both be incredibly inspired, but also incredibly frustrated.
So I was glad last Friday to attend Urban Habitat's Boards and Commissions Leadership Institute (BCLI)'s information session in Oakland. [Read more about BCLI here.]  From the beginning of the presentation, it felt like leadership development done right. Many of the reasons why are evident in BCLI's materials and on their website. I thought, though, that I would highlight two reasons that I hear us talk less about when looking at leadership development.
First, BCLI answers the question of exactly when and where their graduates will be able to practice the skills and use the knowledge learned through their program. It almost feels silly to credit them for this, as it's why they exist at all, but I just don't see that link too often. Groups that I've worked with have dozens of youth and adults go through their leadership development programs, but, and not to their fault, it wasn't always clear where these members would then be able to all assume leadership roles.  Certainly the organizations themselves, with few resources and limited capacity, didn't have enough open staff positions or even member leader roles available. Given this, BCLI not only points to the places where their leadership development program graduates can use newly acquired skills and knowledge, but also where all graduates of social justice leadership development programs throughout the Bay can now, if interested, play leadership roles and be supported in doing so.
Second, BCLI starts with the recognition of its participants, particularly poor and low-income communities of color, as being leaders in the room whose contributions and experiences will benefit their community, given the opportunity. This quality is one that has stuck with me from working with immigrant youth. It's what I've understood to be the role model versus gang approach. While the former can provide a glimpse of a new reality for an audience, it could still also feel foreign and far off if their isn't a deep connection with the speaker. The latter's approach, on the other hand, proved instructive once we came to understand the appeal of gangs to Southeast Asian immigrant and refugee youth in the Northwest Bronx.  Rather than preparing youth to be leaders at some unknown time in the future, gangs, albeit tragically, offered responsibility and recognition almost immediately, allowing a place for them to apply and be recognized for the knowledge and maturity they had acquired growing up as the bilingual bicultural advocates of their community. Good leadership programs shouldn't be gangs, of course, but I do think that they should include an approach that begins with recognition of existing leadership experiences and a trust to fulfill responsibilities based on this.
As someone new to the Bay area and to BCLI, I'm looking forward to learning more and seeing all that directly and indirectly comes out of this work.
* Title inspired by Paula Gidding's book, When and Where I Enter: The Impact of Black Women on Race and Sex in America.