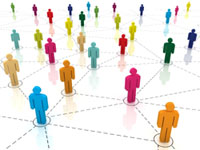 In an ever growing high-tech world, many nonprofits are making it a priority to incorporate new technologies as best they can with the resources that are available to them. A new article in the Nonprofit Quarterly recently discussed how organizations are increasingly developing the new job role of Social Media Manager or "Publisher". This person takes on the responsibility of creating content across various communications channels, including e-mail newsletters, blogs, Facebook, video, etc.
In my work with social media and nonprofits, I have found a few overarching trends that nonprofits face in terms of new technologies and incorporating them in a way that is most suitable to their work. Here I have compiled a few tips to help your organization stay up-to-date, build more effectively with online communities, as well as gain more visibility.

-Update your website design. If it has been several years since your site was last freshened up then it is time for a re-design. Check out other organization's sites to get ideas on how to create a visually compelling and informative site. Make sure it is user-friendly, easy to navigate and read, and provides a clear picture of what your organization is about. Be clear and concise in your descriptions of your work. Your website is the proxy for your organization so you want it to represent you well.
-If you do not have the resources to hire a designer for a full redesign, at least make sure that your current website has clear links to any social media channels (Facebook, Twitter, YouTube, etc.). This way, people (including funders) can keep up with your latest news.
-Some low-cost options for web design include creating a website through Word Press. Some sites like CharityHowTo.com offer webinars to teach you how. Also, think about designing a mobile friendly site. With 87% of the world's population using mobile phones, it is important that the nonprofit sector in the U.S. think about how to innovate around mobile technology.
-Make sure that you are maintaining your social media platforms on a consistent basis. Much of this depends on capacity but the more regularly you post, the more results you are going to get in terms of engagement and feedback from online communities. Figure out which platforms work best for you and manage your time in order to maintain these. If you cannot post on a daily basis, try every other day or at least try to maintain your platforms on a weekly basis. These days, an active online media presence is crucial for being able to show that you are a vibrant organization.
-Evaluate your social media strategy every so often to determine whether or not it is meeting your goals and engaging online communities. You can use analytics to help monitor and measure engagement. If your strategy is not working, what can you do to change that? Maybe try adjusting your approach, using a different platform, and/or being more creative in your tools, tactics, and techniques.
How have you seen success in your new media efforts? Please feel free to add your own tips in the comment section!