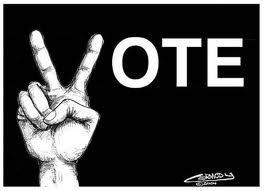 Election Day is just weeks away and Nonprofit Vote has come up with some good tips for voter engagement efforts that can have an enormous impact on turnout. Use the ideas below to engage your community and ensure everyone participates on November 6th!
Participate in National Voter Registration Day on September 25th and join thousands of nonprofits across the country as we register our communities to vote. It can be as simple as registering your staff or publicizing the voter registration deadline.
Support voting and order a free "Vote November 6" kit–it includes a poster, button, stickers, and a list of sample activities for nonprofits. Use the materials to spark conversations about the election and increase turnout.
Educate voters on their early voting options. Help voters request an absentee ballot or find an early voting location. Get more information about absentee and early voting in your state.
Register for our October 11th web event–Nonprofits Get Out the Vote! Countdown to Election Day–for nonprofit-specific get-out-the-vote strategies and a discussion with sector leaders.
For additional ideas, check out: 10 Things to Do Between Now and Election Day.
Also, feel free to use the sample tweets and Facebook post below!
Sample Tweets:
We're helping our community vote on November 6 and you can too! Learn more and order a free Nov. 6 kit: http://bit.ly/OH6An0 #votenov6
Election Day is almost here! Learn how your nonprofit can help your community participate: http://bit.ly/OH6An0 #votenov6
Sample Facebook Post:
Ensure your community is ready to vote on November 6th! Order a free "Vote November 6" kit with a poster, button, stickers, and a list of activities for nonprofits. http://bit.ly/OH6An0