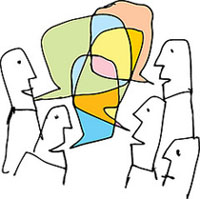 What does social innovation mean today and what did it once look like? This is the question many have been discussing across sectors lately which has led to some thought-provoking answers and observations about shifting priorities and approaches. Co.EXIST recently sat down with top Corporate Executives, including Jeffrey Hollender, CEO of Seventh Generation and YouTube's, Hunter Walk amongst others at the U.N. Social Innovation Summit 2012 to discuss the changing nature of social innovation. The growing trend is to blur the lines between the business, philanthropic, and nonprofit sectors to develop innovative approaches and lasting partnerships that address social issues and encourage positive social change. Below are a few excerpts from Co.EXIST's video:

You used to look at "social" or "for-good" enterprises as something you do on the side, something that's the good part but then there's the commercial enterprise next to it. And what we're increasingly seeing is that people are working to match their social goals with their business goals.
-Hunter Walk, Social Good Initiative Teams Lead, YouTube
Social innovation means real reform with real change… It's about working with the institutional leaders and the bureaucracies of local and national governments.
-Neil Kleiman, NYU Graduate School of Public Service
We can't have social innovation if we don't invest in the basic education and creative thinking and problem-solving capacity of the people who are going to go on and become innovators and lead us into the next generation.
-Shawn Landres, Co-Founder, CEO, Jump$tart
To watch the entire video, please click here.