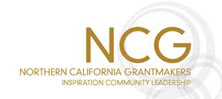 Two weeks ago, I attended the Northern California Grantmakers (NCG) annual conference, "#ReCodeGood: A Look at the New Social Economy". The conference provided a great opportunity to meet NCG's newest board members and also featured a panel discussion with leading scholars and philanthropic experts, Lucy Bernholz and Rob Reich. These two have been leading efforts as part of the Project on Philanthropy, Policy and Technology at Stanford University around what it means to "reCode Good". This refers to the changing landscape of private funds being used for the public good.
Over the past few decades there has been what Lucy and Rob call a tectonic shift taking place, caused by a new social economy. This includes all of the ways that private funds are deployed for the social good. In the past, there has been a distinction between the private, public, and philanthropic sectors; however, because of enormous social and technological innovation, the lines between these sectors has been blurred. These days, one can enter into any of these sectors and be able to work towards social benefit.
This new social economy presents several questions for discussion: Can the same decades-old rules for using private funds for the public good still be used in today's digital world? Do the same rules still apply? How is digital technology changing our conception of public accountability and public goods?