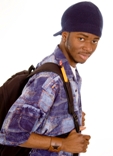 I'm pleased to announce the launch of phase two of our College Bound Brotherhood!
Last year when we closed out the first phase of the Brotherhood, then called the Black Boys College Bound Initiative, we decided that we needed to be more inclusive of organizations that do not receive any of our limited grant money but would benefit from the greater community of people interested in and dedicated to young black men's wellness. The renaming of the initiative to "Brotherhood" is meant to convey a larger movement of organizations, families, and individuals. I hope that everyone will join us – and vice versa – in creating this college bound culture in the Bay Area.  Sign up for our listserv (collegebound AT lists DOT mkf DOT org) to receive updates on workshops and events, both sponsored by us and by others we hear about.
We're opening a call for grant requests between now and June 15, looking to provide $25,000 grants for up to 15 nonprofit organizations that work on college readiness with young black men in Bay Area public high schools. Click HERE for more information on how to apply!
I'm especially excited to spread the word about Collegeboundbros.org, an online searchable database of college readiness programs for young men. Over the next several months, we're making a concentrated effort to encourage all appropriate Bay Area organizations to create profiles on the database, which we'll then begin sharing directly with students and schools. Click HERE to add your organization to the database!
As we already know, creating positive opportunities for our youth – both young men and young women – is CRITICAL to the future well-being of black communities. In the spirit of Harambee, let's all pull together to ensure that young black men, who are all too often in particularly perilous situations, know that we're invested in their happiness and success! (And yes, our young brothas CAN and DESERVE TO be happy!)