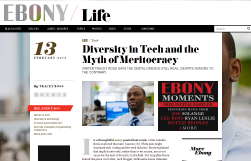 This article, Diversity in Tech and the Myth of Meritocracy, recently posted on Ebony.com is special for several reasons: the author, Tracey Ross, is an Oakland native, a UC Berkeley graduate, and an alumna of a Kapor-supported scholarship program. This article shows only a small bit of her awesomeness.
It also revisits the ongoing discourse about the false equivalency in the tech industry between tech's reaching people in every demographic group and tech being a demographically "diverse" and representative sector. Anyone who looks closely at the makeup of tech firms, VC firms, or startups accelerators can see that this fabled representation just ain't so. Mitch Kapor said as much in 2011 on CNN's Black in America; Freada Kapor said it again last year, and Tracey is reasserting it again here.
SPOILER ALERT (kinda): In the coming months, we're going to be actively focusing on diversifying the tech sector through funding, advising, convening, and advocacy. You're going to be hearing a lot more about this from us.
Meanwhile, congrats to Tracey!