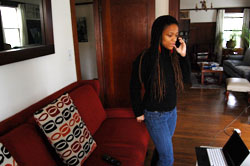 More and more, conversations are growing around how to use technology for social good. Social entrepreneurs, academics, and activists – in addition to foundations like ourselves and grant partners like our own – are all having these dialogues around each of our respective goals for social change.
In this week's e-newsletter of the Chronicle of Philanthropy, ten leaders are highlighted who are providing strong examples of effective use of technology for social purpose. You can check them and their projects out here.
In addition to foundations and non-profits, magazines like GOOD are promoting technology for community development. From March 2nd through the 4th, they are hosting a Design Hack-athon in New York City, calling upon "geeks of all stripes" – from designers to developers – to compete in who can design the most effective tool to promote meaningful connections, efficient transportation, clever consumption, educational reform, cleaner environments, and smart economies. We at the Kapor Foundation are intrigued by these innovative efforts to combine technology and social change and are trying to stay on top of where they might lead.
In the past, we have partnered with Kapor Enterprise Inc.'s (KEI) Creative Team to try to be leaders in this area. We have worked to bring our grant partners together with KEI's Creative Team to receive technical assistance (website, video, social media, printed media, events/presentation, visual identity) with the intention of advancing the goals of our grant recipients. We look forward to continuing to build our work at the crossroads of technology and social justice by staying abreast of new tools and trends that are useful to our efforts and to those whom we work with.