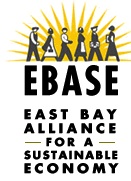 How good are we at celebrating victories? How good are we at telling the stories behind those victories? How important are those stories and celebrations of victories to sustaining and growing a vibrant social movement?
I can only imagine that they go hand in hand – sustainability can't be gotten through struggle and sacrifice alone and organizing victories are hollow unless sustained and built upon.
And so, on this Valentine's day, something we at the Foundation love is both EBASE and their allies' recent victory AND the opportunity provided by them to celebrate that victory on February 22nd.
Happy Valentine's Day to everyone, particularly those organizing with love.