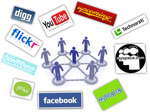 How can social media tools be used to engage and mobilize low-income communities of color?
As the world of social media continues to grow, more and more community-based organizations are seeking answers to this question.
Having recently attended a free social media training for non-profit organizations in addition to speaking with some of our grant recipients about their use of new media, I have found a growing number of groups establishing a voice and space within the social media sphere. Furthermore, some groups, like the Lawyers' Committee for Civil Rights Under Law and ColorofChange.org, two Kapor Foundation grant recipients, are figuring out creative ways of using new technologies to engage and organize communities of color around voter participation.
At "The Word on Election RAP: Why It Matters and How We Can Engage", Eric Marshall (Lawyers' Committee) and Rashad Robinson (ColorofChange.org) discussed how social media tools like YouTube, apps, and widgets can play important roles in informing and engaging voters of color in the upcoming elections. Through the creation of election phone apps, voters can get information about polling places, election protection and news, types of voting machines, and register to vote online. Widgets and catchy PSAs can also help inform and motivate people to the polls–an effort that our grant partners, Voto Latino, have taken on. In addition, promoting "video the vote"–that is–encouraging voters to monitor and document what is going on at polling places through video on their Smart phones can help the effort to expose voter fraud and intimidation.
These are just some ways in which new technologies can be used as tools to promote civic engagement and education while eliminating barriers to voting in low-income neighborhoods of color. I am curious to hear how others are using new tech tools for organizing in disenfranchised communities and what successes, challenges, and opportunities are presented.
Please feel free to share your thoughts!