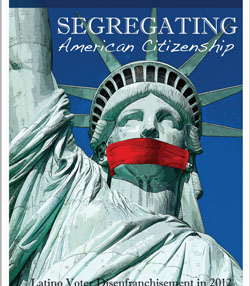 About a week ago, our grant partner, the Advancement Project released a concerning report, revealing that about 10 million Latino voters could be disenfranchised in the upcoming election due to voting legislation passed in more than 20 states. Detailed in Segregating American Citizenship: Latino Voter Disenfranchisement in 2012 are the different types of voter suppression laws and policies that are creating barriers for Latinos to vote, including:
Alleged noncitizen voter purges of registered voters (in 16 states), which target naturalized citizens and may violate equal protection guarantees.
Proof of citizenship requirements for voter registration (in effect in Georgia, and pending in Alabama and Arizona), which impose onerous and sometimes expensive documentation requirements on prospective voter registrants. These laws target naturalized citizens, many of whom are Latino.
Restrictive photo ID laws in 9 states, which similarly impose costs in time and money for millions of Latino citizens who do not have the required documents.
The report shows that in many states, the number of eligible Latino citizens that could be affected by these barriers exceeds the margin of victory of the 2008 presidential election.
"The pattern is unmistakable. State after state has moved to obstruct the ability of millions of Latino citizens to participate in our democracy," said Advancement Project Co-Director Judith Browne Dianis. "This concerted effort targeting Latinos and other voters of color not only undermines the principles of our constitution's guarantee of equal protection, but also impairs the fundamental American value of ensuring all citizens have an equal voice."
To read more and download the report, click here.