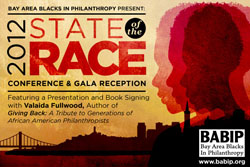 This Friday, Bay Area Blacks in Philanthropy (BABIP) will be hosting their annual State of the Race Conference along with a reception to follow, Celebrating Black Philanthropy Gala. The theme of this year's conference is "Politics, Power, and Philanthropy: A Bay Area Perspective". Featured conference speakers include: Dana King, CBS News Anchor; Timothy Alan Simon, Public Utilities Commissioner; Carol Burton, Executive Director of Centerforce; and Nwamaka Agbo, Campaign Director of the Ella Baker Center. The "Celebrating Black Philanthropy" gala reception will feature a presentation and book signing by Valaida Fullwood, celebrated author of Giving Back: A Tribute to Generations of African American Philanthropists, as well as an awards ceremony honoring local African Americans for their philanthropic efforts.
WHEN: Friday, October 19th, 2012
WHERE: the historic One Leidesdorff building in San Francisco
TIME: 1 p.m. to 7 p.m.
To learn more about the event and purchase tickets, please click here.