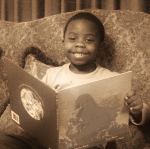 It has taken me three teeth-gnashing weeks to write these 800 words. Ever since early November, when the Council of Great City Schools released its report, A Call for Change: The Social and Educational Factors Contributing to the Outcomes of Black Males in Urban Schools, I've been trying to sufficiently channel my outrage and frustration.
As popularly reported, the report finds that only 12 percent of black fourth-grade boys were proficient in reading and math on the 2009 National Assessment for Educational Progress (NAEP) standardized tests.
That's barely one in ten. One. In. Ten. This was the third punch in the gut this year related to black male academic achievement.
Back in March, the Annie E. Casey Foundation released Early Warning! Why Reading by the End of Third Grade Matters. The report outlines how a stunning 84% of black children scored below proficient on the same 2009 NAEP reading test. (The national average of 58% below proficiency isn't comforting either, indicating a much larger problem.) The report also states that chronic school absences and loss of skills over the summer compound poor reading achievement for low-income students.
In August, the Schott Foundation for Education released its annual 50 state report on public education and black men, which highlights the pervasive and nagging graduation gaps across the nation: twenty states show high school graduation rates of less than 50% for black males.
To me, there's no greater evidence that we as a nation have essentially written off our black male youth. If half of our young men aren't graduating from high school, then where are they?
We can list many if not all of the possible reasons for this national failure, so no need to hash them out here. I want to be forward-thinking, community-minded, and outcomes-oriented. While each of the reports recommends much-needed systemic reforms, I want to issue an additional, direct challenge: I insist that every black man take action to assist with remedying this problem. If you are a self-described reading-proficient African American man, I want you to join me in assuming responsibility for helping at least ONE African American boy – whether related to you or not – to read at grade level by the fourth and eighth grades.
Dr. Jawanza Kunjufu, the provocative and sometimes-controversial educator and author, called out this issue twenty years ago: if black boys do not perform at grade level and find success in elementary school, chances run increasingly high that they will drop out before finishing high school. "The disparity in the number of Black males on college campuses and their ability to earn degrees is inevitable if we start losing Black boys [in the educational system] as early as the fourth-grade,' says Kunjufu, author of the bestseller Countering the Conspiracy to Destroy Black Boys." (Diverse Issues in Higher Education, June 2007).
We also have heard the often-touted link between reading scores and predictions of prison occupancy. Although this seems to be based more on hearsay than hard evidence, the logic is reasonable. And the cradle-to-prison pipeline as defined by the Children's Defense Fund, among others, is all too real.
I recognize that the challenges are complex, time is precious, and the solutions are varied. But this is an acute crisis and, frankly, a downright shame. Brothas, all of us are implicated. With rare exception, our reputation as African American males is a collective one, like it or not. So any failure of our youth reflects badly on all of us.
Increasing literacy skills seems like a straightforward gateway into mentoring. While doing background research, I stumbled upon the website of The Prodigy Project in Atlanta, which has the mission of assisting "young boys with academic achievement by encouraging and demonstrating a love of reading." By deploying their cadre of mostly black male volunteers to schools, afterschool programs, and weekend events, they are tackling precisely the kind of skill-building that our young boys need. Moreover, they're conceivably creating healthy mentoring and role modeling relationships with their charges.  This program model could be especially useful for men who are uncomfortable with or don't have the street cred to work with teenagers, especially young brothas from hardcore experiences.
Not a literacy expert? Neither am I, but there are plenty of resources available to help. Remember Reading is Fundamental, RIF, the longtime experts in children's literacy? As a kid, I always wanted a book from one of their mobile libraries. RIF has an excellent resource list online: www.rif.org/us/literacy-resources.htm. Most local public libraries also have volunteer reading programs, as do many school support organizations like the San Francisco Education Fund.
A movement is afoot to help all of our black youth – male and female – to grow into healthy, happy, and positively accomplished adults. As my pastor used to say, "There are the facts, and then there's the truth." Let's beat back these negative stats. Take action in the way that works best for you, but do take action. I insist!
Pictured: Miles, my five year old nephew.