For Immediate Release
Contact: Derek Turner Press@KaporCapital.com
Kapor Capital Welcomes Mandela Schumacher-Hodge As Its Portfolio Services Director
In the newly created position, Schumacher-Hodge will help the venture capital firm's portfolio companies build inclusive, diverse and welcoming cultures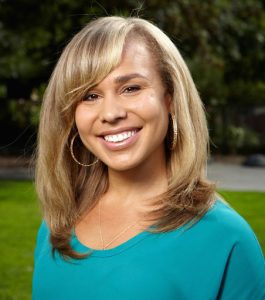 (Oakland, CA) As part of a comprehensive effort to create a more diverse and inclusive tech ecosystem, venture capital firm Kapor Capital has brought on entrepreneur Mandela Schumacher-Hodge to serve as its Portfolio Services Director.  In this role, Schumacher-Hodge will support the development of the portfolio's early-stage tech startups as it relates to business, social impact and diversity and inclusion.
"We were searching for a passionate entrepreneur–seasoned, self-driven, social impact-oriented–with a commitment to helping to build a diverse tech ecosystem, and we have found that, and so much more, in Mandela Schumacher-Hodge," said Kapor Capital Partner Freada Kapor Klein.  Mandela brings with her a  wide interests in business, in the tech ecosystem and a strong passion for people and culture."
A former public school teacher, education policy researcher, and PhD candidate, Mandela Schumacher-Hodge co-founded Tioki, the "The LinkedIn for Educators," in 2011. Funded by Kapor Capital, 500 Startups, and Imagine K12, Tioki empowered educators throughout the country with tools and techniques to position themselves for employment and career advancement. In 2013, Mandela was appointed the Global Director of Education Entrepreneurs, a Gates Foundation initiative operated within UP Global (now Techstars). Within the first year, her team expanded the programming from three to six continents, officially establishing it as the largest effort in the world focused on teaching people how to use entrepreneurship to improve education.
"As a former Kapor Capital portfolio founder, I am thrilled to be joining the investment team as the Portfolio Services Director," stated Schumacher-Hodge.  "I look forward to working with our team, external partners, and portfolio founders to ensure Kapor Capital companies not only succeed financially, but also excel in positive social impact, diversity, and inclusion."
"Mandela has been an amazing source of encouragement and inspiration for me and many social entrepreneurs, as we navigate the ups and downs of startup life," remarked Dan Carroll,  co-founder of edtech startup Clever.
In 2014, Mandela was named to the Forbes "30 Under 30 in Education" list, in 2015, she presented "Why Education Needs Entrepreneurs" at TEDx, and most recently, two of her publications about startups made the "Top 20 List on Medium." Over the past four years, Mandela has advised hundreds of aspiring entrepreneurs and her latest project, The Startup Couch, is a reflection of those lived experiences.
"Kapor Capital believes that you can do well and do good at the same time, and I am excited to contribute my part to making that the norm, rather than the exception," noted Schumacher-Hodge.
###
Based in Oakland, California, Kapor Capital  invests in seed stage tech startups that generate economic returns and positive social impact. We believe diversity in tech is a strategic priority to the industry.