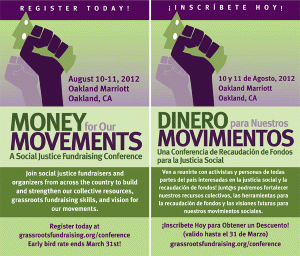 On August 10th and 11th, the Grassroots Institute for Fundraising Training (GIFT) will once again hold their fourth biennial Money for Our Movements: A Social Justice Fundraising Conference at the Oakland Marriot.
My own connection to GIFT spans years, dating back to my first grassroots fundraising training that I admittedly snuck into. Recently, I had the opportunity to share my thoughts on the importance of GIFT in a newsletter to GIFT donors:
1. What was your first impression of GIFT, and why did you decide to become a donor?
At my first GIFT training, I was struck by how the focus was as much on the why as the how of fundraising. And, also, by the belief of the trainers that the participants, as organizers, already had many of the skills needed to be incredible fundraisers but perhaps not yet the confidence or understanding to meet that potential.
I'll forever be grateful to have walked away with something Stephanie Roth said and which I later witnessed a moving example of in person. Responding to a comment about limited wealth within our communities, Stephanie said that it wasn't our role as fundraisers to decide who could or couldn't give…that, for low-income communities and communities of color, who have already had so many choices taken away from them, it wasn't our place to also take away their choice to give, to be donors, to be connected to our work and to be thanked. Our job is to ask. And part of our responsibility in asking is to remember that people enjoy giving.
I donate because of this. Because GIFT reminds us of our ability and autonomy to be givers and fundraisers within larger movements. And because GIFT challenges us to value our work, our organizations, and ourselves in ways that are greater than our fears and discomfort with asking for money.
2. What do you think are the most pressing fundraising issues facing social justice groups right now?
I'll always be indebted to a small group of development staff from four community-based organizations in NYC that we called devallies. We met to share fundraising skills, knowledge, political analysis, key relationships and support. In short, we met to increase our individual and collective capacity to build strong and sustainable organizations as development staff.
Our willingness to support and learn from each other, to see if development and admin staff from different social justice groups can meet as often as organizing staff do, is a pressing fundraising issue right now. I worry that in not doing so, that in keeping development and admin staff isolated within organizations, we ensure smallness rather than scale.
3. What do you wish people knew about GIFT's social justice fundraising conference?
That the conference, as a movement building conference, has always asked of its participants to think as much about what they can bring to it as what they can take away from it. That, like devallies was for me, the conference is, for a field, an opportunity to develop ourselves, our organizations and our movements through coming together around the beautiful art and science of grassroots fundraising.