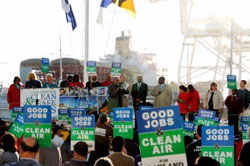 This past Tuesday, the Oakland City Council approved the $1 billion plan to turn the city's old Army base into a state-of-the-art warehouse and logistics center serving the Port of Oakland. This deal, a momentous one for the city, will create thousands of jobs for residents–jobs that will replace those lost after the closing of the base in 1999.
We congratulate our grant recipients, East Bay Alliance for a Sustainable Economy (EBASE) along with the Revive Oakland Coalition, for this victory as they have been a leading force in this plan and its negotiations, advocating for the best possible jobs agreement for Oaklanders.
For several years, EBASE and the Revive Oakland Coalition have worked with Oakland residents to secure a strong jobs policy. Most recently, they mobilized and engaged hundreds of Oakland residents to call on City leaders and developer, ProLogis, to be accountable to the good jobs plan that the City Council approved in February. In addition, EBASE's work with Oakland Rising last fall engaged 5,000 voters and demonstrated that at least 86 percent of Oaklanders supported the plan for good jobs. Without this work, a plan that truly benefits Oaklanders would not have been possible!
Here is some of what EBASE and the Revive Oakland Coalition won:
All jobs at the Army base:
•    Living wage
•    50 percent local hire
•    West Oakland job and training center
•    Long-term community oversight board to oversee compliance with Revive Oakland guaranteed a seat on the board
Construction phase:
•    All new trade union apprenticeships reserved for Oakland residents
•    No pre-screening of job applicants for prior criminal records
•    Project labor agreement to ensure safe conditions and quality jobs
To read more about the victory, please click here.
Again, congratulations to EBASE, Revive Oakland, and Oakland residents for this hard-earned achievement!