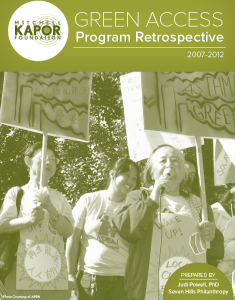 As we prepare to close up shop at the Kapor Foundation and celebrate our debut in our new skin as the Kapor Center for Social Impact, we wanted to conduct a thorough analysis of what we've learned from the terrific community of organizations we've worked with since our program areas launched in 2007.
Attached please find our Green Access and VoICE retrospective papers. Many thanks to Judi Powell of Seven Hills Philanthropy for her meticulous work in shaping our learnings, which were gathered from final reports, internal analysis, and interviews with community leaders.  We are distributing the reports through our professional affinity associations: Funders Committee for Civic Participation, Bay Area Justice Funders Network, and Neighborhood Funders Group. We hope that you, as funder peers and community colleagues, will find them to be instructive and even inspiring!
Download the Green Access Program Retrospective here.
Download the Voting Integrity & Civic Engagement Program Retrospective here.