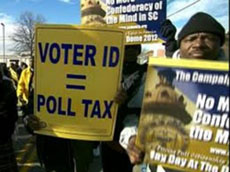 A recent study released by our grant partner, The Brennan Center for Justice, reveals that 500,000 Americans could face difficulties in obtaining a government-issued photo ID in order to vote. In the first comprehensive study of its kind, the Brennan Center exposes the many challenges to attaining a free photo ID for eligible voters who do not have one. Looking at 10 states with voter ID laws–Alabama, Georgia, Indiana, Kansas, Mississippi, Pennsylvania, South Carolina, Tennessee, Texas, and Wisconsin–they found that:
Law requires that these states provide a free photo ID to eligible voters who do not have one, however many government offices where photo ID's can be obtained are not accessible to everyone.
Nearly 500,000 eligible voters do not have access to a vehicle and live more than 10 miles from the nearest state ID-issuing office open more than two days a week. Many  live in rural areas with limited public transportation options.
Documentation for obtaining a photo ID, such as birth certificates or marriage licenses incurred costs of between $8 and $25 which may burden poor and low-income voters. More than 1 million eligible voters in these states fall below the federal poverty line.
1.2 million eligible black voters and 500,000 eligible Hispanic voters live more than 10 miles from their nearest ID-issuing office open more than two days a week. People of color are more likely to be disenfranchised by these laws since they are less likely to have photo ID than the general population.
Many ID-issuing offices maintain limited business hours. For example, the office in Sauk City, Wisconsin is open only on the fifth Wednesday of any month. But only four months in 2012 — February, May, August, and October — have five Wednesdays.
To read more findings from the report and to download, click here.