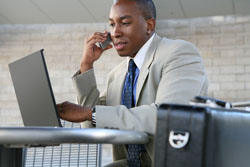 Black men are heavy users of mobile technology, so why are they not pursuing careers in this field? This is the question that researchers at Pennsylvania State are investigating with a grant they received from the National Science Foundation as reported by The Journal of Blacks in Higher Education. Lynette Kvasny and Eileen Trauth, both professors of information sciences and technology at Penn State are conducting interviews with Black men on the path toward careers in Information Technology in order to determine which factors encouraged them to make this decision. Dr. Kvasny presents a compelling question: "There's so much technology in their world, but why do so few Black men make a connection between being a user of technology and making a career out of it?"
They are interviewing IT students at Penn State, Washington State University, and several historically Black Colleges and Universities. "We are trying to get Black males to think outside of the norms of what society holds for them," Dr. Kvasny says. The researchers hope that this investigation will lead to an online community of support for Black men in IT.
We are looking forward to finding out the conclusions of this study as it is extremely relevant to our work with the College Bound Brotherhood. We will stay tuned!
Photo courtesy of Shutterstock