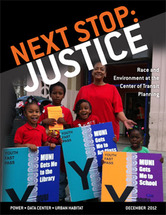 Last month our grant recipient, People Organized to Win Employment Rights (POWER) along with the Urban Habitat and the DataCenter released a compelling new report, Next Stop: Justice/Próxima Parada: Justicia which analyzes San Francisco's public transit system, offering a vision for transit policy that puts race and the environment at the center. The report includes 10 case studies of transit lines throughout Southeast San Francisco and survey data from over 700 transit riders which show:
Low-income communities and communities of color cannot afford Muni's rising fares.
San Francisco spends $9.5 million per year to implement its "Proof of Payment" fare enforcement program and recovers only $1 million in lost fares.
Public transit can move the local economy.
Reducing transit fares can help San Francisco reach its climate objectives by increasing ridership.
Bus riders in the core communities of color in SF are impacted by long waits and overcrowded buses.
The report provides a comprehensive analysis of these findings, as well as policy recommendations that not only benefit youth, elders, communities of color and immigrant communities but the city as a whole by contributing to economic development and a healthier environment. To download Next Stop: Justice, click here.