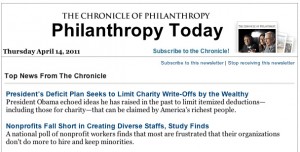 Yesterday, we were happy to see the Level Playing Field Institute's new report, "The Voice of Nonprofit Talent: Perceptions of Diversity in the Workplace" get top billing in the Chronicle of Philanthropy's daily update.
Please check out this timely piece by our colleagues at Kapor Enterprises and its implications for building, sustaining and growing diverse organizations.
Here's a small excerpt to get you started …
Across the nonprofit sector, most employers share the belief that racial diversity is a key component of organizational health, performance, and outcomes. Yet, according to today's nonprofit talent, few organizations are doing enough to attract and retain professionals of color. There is a perceived gap between the intentions and actions of nonprofit organizations when it comes to promoting staff diversity.
A common perception held by nonprofit professionals is that their employers value diversity, but that those values are not being translated into actions resulting in the creation of diverse and inclusive workplaces. For organizations seeking to increase the racial diversity of their staff, or retain their current employees of color, the ineffectiveness of mere "good intentions" around issues of diversity and inclusiveness presents a looming problem. Download the full report.