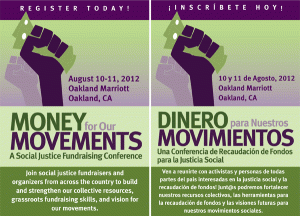 A few months ago, I shared a save the date for the Grassroots Institute for Fundraising Training (GIFT)'s upcoming conference and my own reasons for valuing deeply GIFT's community, work and vision on this blog.
I'm happy to share that registration is now open for the 2012 Money for Our Movements conference. I look forward to seeing many of you there!
More info below:
Have you heard about the upcoming Money for Our Movements conference? Are you a fundraiser, organizer, or activist looking for opportunities to strengthen your fundraising skills? Would you like to learn and share with others who are developing new and innovative ways of sustaining resources for our movements and communities?On August 10-11, 2012, the Grassroots Institute for Fundraising Training (GIFT) will host our fourth biennial conference Money for Our Movements 2012: A Social Justice Fundraising Conference in Oakland, CA.  This conference will bring together over 700 individuals who represent hundreds of social justice organizations for an inspiring weekend of fundraising training designed specifically for movement makers. We hope you will join us!Keynote Speakers Saru Jayaraman and Attica Woodson Scott will share more about their work and vision for how we continue to successfully build and sustain our movements in this particular political moment.

Here's what else you can look forward to:
Get fundraising skills training geared toward social justice fundraisers and organizers featuring  hands-on exercises and practical information. There will be programming in the following areas:
Social media & online fundraising
Boards & teams
Fundraising skills & strategies
Giving & philanthropy
History, politics & new models
Each workshop time slot will offer 1 workshop in Spanish and 1 workshop simultaneously interpreted from English to Spanish!
Learn about concrete, real-life examples and models of organizations from the US and abroad that are creating alternatives to fundraising driven by foundations and/or government agencies.
Participate in discussions with others who fill various organizational roles, from board members to development staff to community organizers and leaders, to broaden the analysis of fundraising to include its impact on program and movement-building.
Attend planning sessions on how to raise money in communities of color and/or immigrant communities.
Participate in networking opportunities for you to share, come together, and build community.
Identify ideas for new and emerging strategies that tie fundraising to collective liberation.
Between now and June 15th, you can save $50 off your registration fee by using the discount code "mfom50" (or "mfomsub50" if you also want to get a 2-year subscription to the Grassroots Fundraising Journal)!
Can't make it to the conference? Already registered? Please help us spread the word by sharing this with your networks, and consider becoming a conference sponsor. We're half way to our goal of raising $25,000 from folks like you who understand the important role that Money for Our Movements plays in building stronger social justice movements.
Please donate today to help make the conference as accessible to as many social justice fundraisers as possible. We can't do this without you!
In solidarity,
Ryan Li Dahlstrom & Nisha Anand, Conference Co-chairs
¿Ha escuchado acerca de la próxima conferencia Dinero para Nuestros Movimientos? ¿Trabaja como recaudador(a) de fondos, organizador(a), o activista y busca oportunidades para fortalecer su capacidad para recaudar? ¿Quiere aprender y compartir con otros que están desarrollando nuevas e innovadoras estrategias de recaudación de fondos para nuestros movimientos y comunidades?
El 10 y 11 de agosto, 2012, el Instituto Comunitario de Capacitación para Recaudación de Fondos (Grassroots Institute for Fundraising Training ? GIFT) celebrará la cuarta conferencia bienal llamada Dinero para Nuestros Movimientos 2012: una Conferencia sobre Recaudación de Fondos y por la Justicia Social en Oakland, CA. Esta conferencia reunirá a más de 700 individuos que representan cientos de organizaciones que trabajan por la justicia social.
Únase a recaudadores de fondos y activistas que trabajan por la justicia social, y juntos podremos crear y fortalecer nuestros recursos colectivos, habilidades para recaudar fondos de nuestras comunidades y la visión de nuestros movimientos. Los oradores principales de la conferencia Saru Jayaraman y Attica Woodson Scott compartirán acerca de su trabajo y visión sobre como podemos continuar creciendo y sustentando nuestros movimientos con éxito en este momento político.
Para aquellos que trabajan con la comunidad latina, hemos diseñado varios talleres en español sobre recaudación de fondos; por ejemplo: cómo organizar eventos especiales, un modelo de una campaña de recaudación para la construcción de un edificio, etc. También habrá un panel con tres organizaciones que compartirán sus experiencias en la recaudación de fondos y cómo lograr el éxito.
Otras cosas que puede esperar de la conferencia:
·     Reciba capacitación para fortalecer sus habilidades de recaudación. Los talleres de capacitación incluyen dinámicas que le ayudarán a mejorar sus destrezas e información práctica. ¡Cada sesión de talleres ofrecerá 1 taller en español y 1 taller interpretado simultáneamente en inglés y español!
·     Aprenda sobre ejemplos y modelos concretos de la vida real de organizaciones de los EE.UU. y en el extranjero que han creado nuevas oportunidades en la recaudación de fondos.
·     Participe en discusiones con una variedad de personas que trabajan como miembros de juntas directivas, o personal de recaudación, u organizadores y líderes comunitarios.
·     Asista a sesiones de planificación sobre como recaudar dinero en comunidades de color y/o comunidades inmigrantes.
·     Participe en oportunidades para establecer contactos donde puede compartir, aprender, y formar comunidad.
·     Identifique ideas sobre estrategias nuevas y emergentes que conectan la recaudación de fondos con los esfuerzos por la justicia social en nuestras comunidades.
Entre hoy y el 15 de junio, usted puede ahorrar $ 50 de descuento en su cuota de inscripción mediante el código de descuento "mfom50"!
Si su organización está fuera del Área de la Bahía y necesita una beca para asistir, consulte nuestros criterios para dichas becas. 
Para más información sobre la conferencia o para inscribirse, visite nuestro sitio Web.
¡Esperamos verlos allí!
Ryan Li Dahlstrom y Nisha Anand
Co-Directoras de la conferencia
¿No puede asistir a la conferencia? Por favor, ayúdenos a difundir la palabra por compartir esto con sus redes, y considerar la posibilidad de ser un patrocinador de la conferencia. Estamos a mitad de camino a nuestra meta de recaudar $ 25,000 de gente como ustedes que comprenden el importante papel que el dinero para nuestros movimientos juega en la construcción de fuertes movimientos de justicia social.
"