Community change is built through collaboration, trust, and vision. Foundations are committed to these principles and are actively working together to understand our role in building change. Instead of functioning as individual entities, we are looking to each other as partners in order to better support the efforts of community based organizations.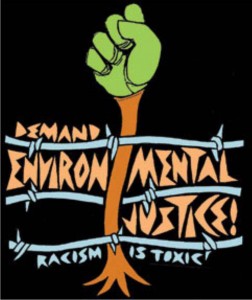 CARMEN: The Health and Environmental Funders Network (HEFN) is a network of funders committed to grantmaking at the nexus of environment and health. By building this cross-cutting philanthropic community, HEFN and its members are supporting an increasingly powerful movement towards healthier people, ecosystems, and communities. At this week's HEFN-CA annual convening, funders gained an understanding of the environmental funding landscape in California as well as developed an understanding of systems analysis work. We also heard from a panel of amazing organizers and legal advocates who made it clear that the Central Valley in California has become the new front line of social and environmental justice work.
Photo from: http://www.macalester.edu/americanstudies/enviroart.
TIFFANY: The Social Justice Funders Group is a collaborative of Bay Area grantmaking organizations committed to promoting social change through philanthropy. The group meets regularly throughout the year for ongoing conversations, information sharing, and strategizing about issues pertinent to social justice. In our most recent November meeting, we discussed the impact of the current economic crisis on each of our social justice grantmaking strategies, ways to get involved in the work surrounding AB 624 legislation regarding the scarcity of foundation giving to low-income communities and communities of color, and the impact the latest Presidential election may have on the social justice movement.
Photo from lesleymcdade.blogspot.com.

CEDRIC: I just returned from the annual meeting of Funders Committee for Civic Participation, which "brings together grantmakers committed to enhancing democratic involvement in all dimensions of civic life." This year's gathering focused on debriefing the results of the 2008 elections, which were monumental in certain ways but left room for improvement (i.e. additional voter participation and smoother elections administration) in others.  In session after session, we discussed stats, implications, and strategies for looking ahead. Through these gatherings and monthly phone calls, FCCP is a breeding ground for philanthropic idea-sharing and collaborations. I especially appreciate the trust and camaraderie shared by FCCP members as we jointly seek to make this democracy work for all Americans, residents and citizens alike.