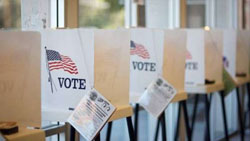 A new survey conducted by the Penn Schoen Berland National Post-Election poll reveals that the majority of Americans would like to see national standards for how people vote, including what hours polls are open, who is eligible to vote, and the type of ballot used. MacArthur Foundation President Robert Gallucci makes the point: "On the heels of an election that required some Americans to endure a long line to cast their vote and others to face confusing new requirements, the message from this poll is clear. Our democracy and our electorate deserve better rules and procedures for efficiently administering federal elections."
A few statistics from the poll revealed:
Half of those polled are "strongly supportive" and an additional 38 percent are "somewhat supportive" of national standards.
Voters surveyed are more likely to express concern about "eligible voters being denied the opportunity to vote" (64 percent) than about "ineligible voters getting to vote (36 percent)."
Our Voting Integrity and Civic Engagement (VoiCE) program and past election protection grant partners have advocated for election reform, as well as pushed back against voter suppression. Universal registration proposed by the Voter Registration Modernization plan and empowering small donors in elections have both been strong points of advocacy by our grant partner, The Brennan Center for Justice discussed previously here.