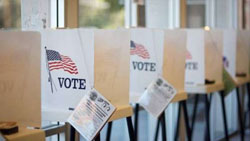 Over a week ago, the Obama administration made an unprecedented decision to "defer action" and ease enforcement around the deportation of foreign-born youth, affecting as many as 1 million undocumented students. This news was met with much joy and relief by DREAMers and activists across the country. On the other hand, this week began with less satisfactory news as the Supreme Court decided to uphold the part of Arizona's SB 1070, institutionalizing racial profiling. It has been a mixed bag of news on the immigration policy front.
Demonstrating outspokenness and up-to-the-minute news on these issues has been our grant partner, Voto Latino (VL), who has used Twitter, Facebook, YouTube, and a blog amongst other means to educate and engage young Latinos around voter ID laws, education, and immigration. Reaching 55 million Latino households nationwide, Voto Latino has recently joined forces with actress, America Ferrera, launching their newest campaign, America for America, to motivate young Latinos to the polls. In a recent video, Ferrera talks about the importance of this year's election and the barriers threatening voter rights. "This year we're up against some extra challenges. Confusing new laws and scary messages about voting can make it even harder to make sure Latino voters represent at the polls." She adds why she teamed up with VL: "It's our way of pushing back on these new rules, and making sure Latino's are empowered to register, vote, and make a difference on election day."

Also engaging the youth vote is our grant recipient, the NAACP, who recently announced strong support for the Voter Empowerment Act. Their national campaign, This is My Vote, seeks to register hundreds of thousands of Americans and equip vulnerable communities with the resources to challenge attacks on voting rights. "Voter suppression measures launched in several states potentially disenfranchise over five million eligible voters," said Hilary O. Shelton, the Director of the NAACP Washington Bureau and the Senior Vice President for Advocacy and Policy. "Although the NAACP and other organizations are increasing efforts to mobilize and inform voters of voting and registration laws, the [Voter Empowerment Act] provides an opportunity for Congress to ensure that the right to vote for all Americans is protected fairly and uniformly throughout the country".
Keep up with these organizations online to learn more about their campaigns and get the latest news on the immigration policy and voting access fronts!