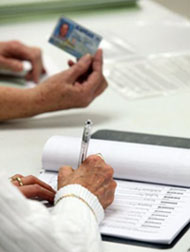 An Associated Press review of Indiana and Georgia's temporary ballots from the 2012 general election shows how restrictive voter ID laws disenfranchised many voters, tossing out 1,200 temporary votes. In this year's primaries in Georgia, Indiana, and Tennessee–states with the strictest Voter ID laws–hundreds more ballots were blocked. The Associated Press states: "The numbers suggest that the legitimate votes rejected by the laws are far more numerous than are the cases of fraud that advocates of the rules say they are trying to prevent. Thousands more votes could be in jeopardy for this November, when more states with larger populations are looking to have similar rules in place."
In addition to stringent voter ID laws, our grant partner, the Lawyers' Committee and Common Cause reveal in a new report that deceptive election practices and voter intimidation are also putting the voting rights of tens and perhaps hundreds of thousands of Americans in danger. Using the email addresses and telephone numbers of millions of voters, as well as, Facebook and Twitter, political pirates are deceiving Americans and sabotaging elections.

The 33-page report includes case studies of Election Day sabotage in nine states, including:
Email messages on Election Day 2008 informing students at George Mason University in Virginia that voting had been postponed for 24 hours. Text messages sent to University of Florida students that day said Tuesday voting was for Republicans only, with Wednesday reserved for Democrats.
More than 100,000 Election Day 2010 robocalls to predominantly African-American precincts in Maryland advising supporters of incumbent Gov. Martin O'Malley that O'Malley's re-election was secure and they needn't bother to vote. A top aide to Republican Bob Ehrlich was convicted of violating state election laws for his role in the case.
Facebook messages distributed by a Mississippi pastor advising voters opposed to a "personhood amendment" to the state Constitution that because of anticipated high turnout they should vote on Wednesday, the day after the actual election.
Phone calls directed at residents of two Philadelphia wards in 2008 advised the recipients that Latino residents would be restricted to voting between 2 p.m. and 6 p.m. on Election Day.
To read more from the report by the Lawyers' Committee and Common Cause, including what needs to be done to protect the rights of voters, please click here.
Photo: Travis Morisse, Associated Press / SF