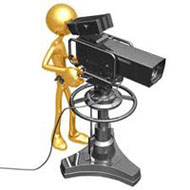 Looking for an alternative to the traditional annual report? Wondering how you can create an engaging report that showcases your yearly accomplishments and can be distributed widely with no printing costs? Video is the way to go these days. Our own Cedric Brown recently discussed the process of creating the Kapor Foundation's 2011 video report as part of the Foundation Center's Glasspockets blog. He spotlights some key points to pay attention to in creating a compelling piece that will inform others of your organization's mission, work, and achievements. Some suggestions include:
1. Tell your organization's story; highlighting your voice, values, style, and approach to work
2. Be clear and easy to understand
3. Be neat in your aesthetics
4. Use compelling images. Catchy music doesn't hurt either.
5. Do not worry if you do not have the resources for an expensive video–flip cameras and free editing software can do the job!
To read more from Cedric's blog piece, click here.