Hi Grantees, Community Organizers, Green Activists, and MKF Partners!
My name is Carmen Rojas and I am the new Grants Officer at the Mitchell Kapor Foundation. It's been an exciting couple of days as Tiffany, Cedric, and I develop our work groove and I begin to think about the future of our Green Access work.
As many of you know, we are deeply committed to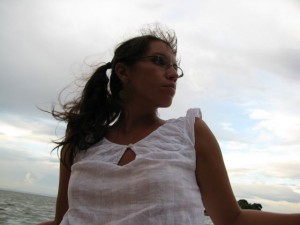 participating in and supporting the conversations and organizing efforts occurring in the areas of climate justice, green jobs, and building healthy and sustainable communities of color throughout the Bay Area. I am here to make sure that we are a stakeholder in all of these areas as well as to support organizations that are on the ground doing and thinking about this work. Specifically, I will be overseeing and managing the grantmaking process in the area of Green Access as well as working with partners to define the opportunities and challenges for the future of this work.
I'm currently wrapping up a dissertation in the Department of City and Regional Planning at UC Berkeley so  I'll only be in the office part-time until January, but I am excited to meet you in the coming months and start laying the foundation for our future work together.