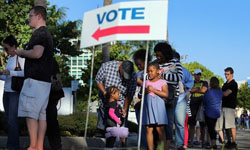 The Palm Beach Post revealed this week that former Florida GOP leaders intentionally designed restrictive voter laws to limit votes from Democrats and people of color. Florida voters, as we saw in this year's election endured long voting lines and other confusion as a result of reduced voting hours, voter purges, and voter registration restrictions pushed by Republican leaders. In this article, former GOP chairman, former Gov. Charlie Crist, and others revealed that prevention of voter fraud was not the underlying motivation behind voting restrictions; a GOP win was.

Wayne Bertsch, who handles local and legislative races for Republicans, stated he knew targeting Democrats was the goal. "In the races I was involved in in 2008, when we started seeing the increase of turnout and the turnout operations that the Democrats were doing in early voting, it certainly sent a chill down our spines. And in 2008, it didn't have the impact that we were afraid of. It got close, but it wasn't the impact that they had this election cycle," Bertsch said, referring to the fact that Democrats picked up seven legislative seats in Florida in 2012 despite the early voting limitations.
A GOP consultant who asked to remain anonymous out of fear of retribution said Black voters were a concern. "I know that the cutting out of the Sunday before Election Day was one of their targets only because that's a big day when the Black churches organize themselves," he said.
Although GOP voter suppression tactics backfired as record numbers of people of color turned out to vote, it remains clear that nonpartisan elections protection is necessary. Furthermore, the voting system needs change and modernizing, as several of our grant partners have advocated. A few ideas include: implementing same-day and online voter registration and updating antiquated registration rolls, empowering small donors in elections, and ending government dysfunction.