The Equitable Computer Science Curriculum Initiative is dedicated to eliminating barriers that exist in K-12 computer science education and pathways for marginalized students to STEM-related fields and tech careers. Our research, policy advocacy, and partnerships engage leaders on all levels to help ensure equitable access and meaningful opportunities for all students.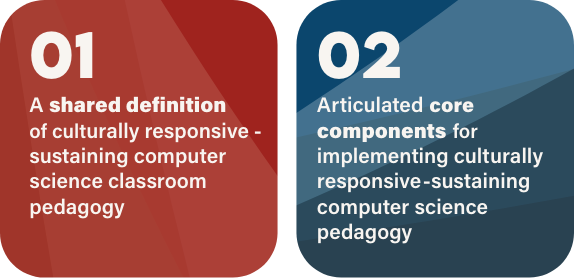 The Culturally Responsive-Sustaining Computer Science (CRCS) Framework FEATURES TWO CORE ELEMENTS.
Culturally Responsive/Sustaining CS Classroom Resources
Culturally responsive-sustaining computer science pedagogy ensures that students' interests, identities, and cultures are embraced and validated, students develop knowledge of computing content and its utility in the world, strong CS identities are developed, and students engage in larger socio-political critiques about technology's purpose, potential, and impact. To provide tangible examples for expanding equitable and just computer science outcomes at the K12 level, we have developed a set of resources for teachers, school administrators, computer science instructional coaches, district administrators, and curriculum providers. These practical resources are intended to enhance integration of the CRCS Framework core components, CRCS instructional practices, CRCS pedagogical skills, and other computer science resources and are suitable for usage by any stakeholder in K12 computer science. We will be updating and adding to these resources to share broadly with the K-12 CS community.
Curriculum Evaluation Tools
Classroom Instructional Strategies
Sign up here to stay connected to our latest resources and information supporting the implementation of the CRCS Framework!
The Equitable CS National Webinar Series
Click here to watch episodes from this ongoing series: