The Equitable Computer Science Curriculum Initiative is dedicated to eliminating barriers that exist in K-12 computer science education and pathways for marginalized students to STEM-related fields and tech careers. Our research, policy advocacy, and partnerships engage leaders on all levels to help ensure equitable access and meaningful opportunities for all students.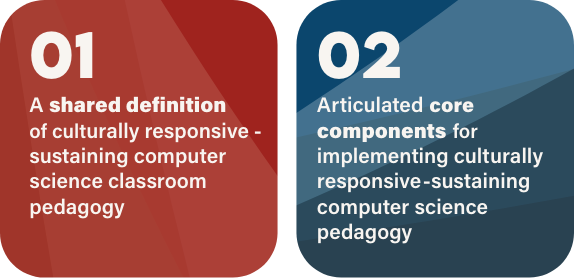 The Culturally Responsive-Sustaining Computer Science (CRCS) Framework FEATURES TWO CORE ELEMENTS.
Sign up here to stay connected to our latest resources and information supporting the implementation of the CRCS Framework!
What is Culturally Responsive-Sustaining CS Pedagogy?
Culturally responsive-sustaining computer science pedagogy is situated within a context of racial, socioeconomic, and gender inequality in K-12 CS education. It articulates a strategy to move beyond increasing access to computer science courses and ensure all students have the opportunity to be inspired and engaged in computing education, develop critical computational skills, and have equitable opportunities to pursue computing careers and contribute to technological innovation. Culturally responsive-sustaining computer science pedagogy includes: the teacher's instructional practice, the curriculum, resources, and activities used in the classroom, as well as the instructional design practices utilized by the teacher. Culturally responsive-sustaining computer science pedagogy is necessary but not sufficient to achieve equity in computer science education. It must be implemented alongside broader solutions to dismantle racism and inequity in education, employment, health, and the environment, all of which disproportionately negatively impact marginalized communities.

Culturally responsive-sustaining computer science pedagogy ensures that students' interests, identities, and cultures are embraced and validated, students develop knowledge of computing content and its utility in the world, strong CS identities are developed, and students engage in larger socio-political critiques about technology's purpose, potential, and impact.
The Equitable CS National Webinar Series
Click here to watch episodes from this ongoing series: