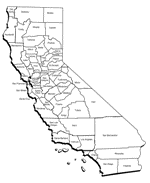 Yesterday I heard a terrific briefing at the Haas Jr. Foundation (Thanks Cathy and Ted!) on the California redistricting process, which stands to be a great experiment in participatory democracy or  a hugely controversial process stunted by our national polarity. Or maybe some of both.
The San Francisco Chronicle recently ran a front-page article describing the process and the need for a pool of candidates who reflect the diversity of our state. The article drove me to look closer at the selection process for the California Redistricting Commission, which will be comprised of 14 citizen applicants, some randomly selected and others not. Criticisms of the lopsided applicant pool notwithstanding, the selection process alone promises to be thrilling, kind of like a civic lottery. I even checked out the application, which is due on Friday, February 12th. There has been a last minute push to spread the word to communities of color; I even received a video message in my personal email from the Northern California district director of my fraternity encouraging brothers to consider applying if we met certain eligibility criteria required by Proposition 11, which was passed by voters in 2008 to create the commission:
Are a registered voter and have voted in at least two of the last three general elections.
Have had consistent voter affiliation for five years.
Had no conflicts of interest as outlined here.
If you, dear California voter, meet these criteria and are interested in participating in a process that will shape the immediate electoral future of our state, you have a week to get your name in the hat!