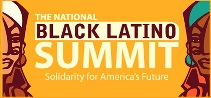 Juliet Ellis of Urban Habitat invited me to attend the recent National Black & Latino Summit, held in Los Angeles earlier this week. The Summit, sponsored by PolicyLink and the William Velazquez Institute, was the initial gathering to set an agenda for building alliances between African American and Latino/Hispanic communities, capitalizing on the perhaps unprecedented levels of excitement and mobilization around the Presidential elections.
As you well know by now, ours are the largest ethnic groups of people of color in the U.S. (even though there are black Latinos, but that's another story); together we're projected to comprise nearly half of all Americans in the next 40 years. One could assume a natural connection between black and brown people, given that we face similar marginalization-based challenges around health, education, criminal justice and housing, but perceptions over lack of jobs, community safety, and resources have caused tension between the two broadly-defined groups. (Am I saying anything that you don't already know?) Nevertheless, goodwill and shared accomplishments do exist, and I was quite moved by the connections across ethnicity and geography that I witnessed.
Angela Glover Blackwell, Founder and CEO of PolicyLink, presided over the Summit, directing the 500 plus attendees not to expect answers by the end of the short gathering, but to consider this the first step in many conversations and actions that will grow to include other allies as well.
Highlights:
Robert Ross, President of the California Endowment, shared an introductory anecdote about Fish and Jazz Fridays with his black father and Arroz con Gandules and Salsa Sundays with his Latina mother, all under the same roof while growing up in the Bronx.
Los Angeles Mayor Antonio Villaraigosa spoke about historical connections made by community organizers, most famously by Cesar Chavez and Martin Luther King, Jr., but also enacted by many others.
Following a thoughtful performance by dance company CONTRA-TIEMPO, Tavis Smiley directed an interesting panel on the role of arts, culture, and activism in helping to unify and transform communties.
There were two large panel discussions on eight issues (criminal justice, immigration reform, education, workforce, transportation, health disparities, housing, and environmental justice). Each panel discussion was based on working policy briefs distributed in advance. Dr. Manuel Pastor outlined areas  of critical importance in workforce development, an especially sensitive issue in low-income Latino and black communities that view each other as competition for "unskilled" jobs. Dr. Robert Bullard, john a. powell, and James Bell made provocative remarks on educational challenges, environmental justice, and criminal justice, respectively (wish I could detail them more fully here).
I had mixed feelings about the small group "fishbowl" exercise that we participated in, but it provided a glimpse into a guided (and somewhat polite) all-Latino conversation about potential conflicts and connections with African Americans. This helped me to develop a starting point of sorts for understanding certain perspectives. Later I challenged our entire cohort of blacks and Latinos to take alliance building with us into everyday interactions by taking advantage of "teaching moments" and confronting bigotry, stereotypes, and xenophobia whenever possible.
This may sound Kumbaya to more skeptical ears, but such convenings are vital baby steps in a longer, larger race. I left the Summit with a terrific sense of hope that, as my favorite poet Nikki Giovanni once wrote, "all good people/could come together/and win without bloodshed." Yes we can.