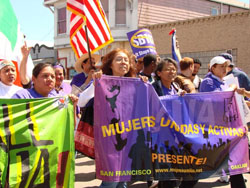 Last month, the National Domestic Workers Alliance held a National Congress in Washington, D.C. attended by over 400 domestic workers of over thirty organizations from twenty-two states. Amongst its members were our grant partners, Mujeres Unidas y Activas (MUA), who have been at the forefront of local, state, and national civic engagement and organizing efforts around domestic workers' and immigrant rights. MUA has been a prominent force in the efforts to pass the Domestic Workers Bill of Rights in California. They played an instrumental role in advocating for its passing in the State Assembly last year and are continuing to organize for its approval from the Senate.

Mujeres Unidas y Activas works to build personal and collective power and leadership within Latina immigrant communities in San Francisco and Oakland through education and civic engagement. Previously, MUA has organized campaigns that have won provisions for immigrant survivors of violence in the federal Violence Against Women Act (VAWA), defeated statewide measures that would have ended prenatal care for immigrant women, and articulated the need for improved language access in Alameda County hospitals. In addition, they have worked to have local ordinances passed ending the collaboration between the San Francisco police department and ICE.
"Crossing the border to secure a better life is an act of courage and leadership," says Juana Flores, MUA Co-Director and former household worker. "MUA harnesses these skills and empowers immigrant women to put our voices at the center of the fight for equality and justice. Everyday, the women who enter our doors are encouraged to recognize their strengths and skills, connect their personal struggles to a broader movement, and design and implement policy campaigns around the issues that most affect their lives."
To keep up with MUA's latest efforts, please visit their website and Facebook page! Also, listen to MUA's Political Director, Andrea Cristina Mercado, talk about domestic workers banding together in her TED talk.