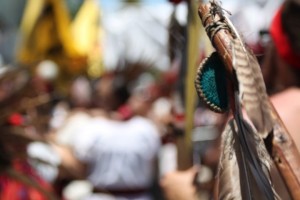 As many of us now know, Arizona has long been a laboratory for anti-immigrant legislation, driven and funded by prison companies and their profit motives. Tonight I'm headed back to the state. I'll be visiting for the first time since shortly after SB1070 passed, supporting a delegation of allies on a learning tour both in Phoenix and Tuscon.  I hope to share reflections from this trip in a future post, but wanted to call attention here to another Arizona related headline.
In addition to being a laboratory for anti-immigrant legislation, the state has also been a laboratory for public financing legislation, but in this instance, increasing rather than criminalizing political speech and opportunity.  Arizona did this through their Clean Elections public financing law and its matching fund provisions.  It's the constitutionality of this law, though, that the U.S. Supreme Court is now considering.  Below is a an update on this critical case, McComish v. Bennet, by Marc Caplan, program officer of the Piper Fund, a Mitchell Kapor Foundation grant recipient:
Piper Update – March 28, 2011 – Marc Caplan
The Supreme Court will hear oral argument today at 10:00 AM on the most important public financing case the Court has heard in more than 30 years.  The case, McComish v. Bennet, marks the first time that the Supreme Court has considered the constitutionality of a public financing measure since the landmark Buckley v. Valeo decision in 1976, which upheld the presidential public financing system and other reforms. For that reason, it could have a profound impact on the ability of all levels of government to offer reforms which counteract the influence that powerful interests have over elections.
The McComish case challenges the matching fund provision of Arizona's Clean Elections public financing law, which was enacted by voters through a ballot referendum in 1998.  The matching funds provision is "triggered" when non-participating candidates in an election spend above the amount of grants provided to publicly financed candidates and also can be triggered when independent expenditures are made against a publicly financed candidate.  In those cases, the publicly financed candidates receive additional grants. Through the 2008 election cycle, the law was used increasingly by candidates in Arizona, with solid majorities of both legislative and statewide candidates opting to run utilizing the Clean Elections law.
Despite the Ninth Circuit Court of Appeals decision in May 2010 that the Arizona matching-fund provision was indeed constitutional, the Supreme Court nevertheless intervened in June 2010 to block Arizona from making any "triggered" matching fund grants for the 2010 election cycle.  Following that action by the Court, many observers predicted the Court would decide to consider the legal issues presented in the McComish case, which they did in late November 2010.
The attack on the trigger provisions of the Arizona public financing law is part of the well-coordinated and financed multi-year assault led by right-wing legal centers on all aspects of campaign finance reform designed to empower moneyed interests with even greater influence over our country's elections than they already have.   …
For the full update, including a summary of responses by public interest legal centers, the Brennan Center and the Campaign Legal Center, email Marc Caplan at mcaplan at proteusfund dot org.