The Kapor Center operates at the intersection of technology and racial and social justice. Along with our sibling organizations, the Level Playing Field Institute and Kapor Capital, we work to create a "STEM to startup" approach to diversifying the tech ecosystem and entrepreneurship.
---
Community Engagement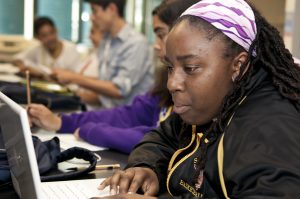 Our Community Engagement efforts strive for Oakland to have a thriving ecosystem with equitable access to the tech sector. This means:
increased and coordinated on-ramps into the tech sector – through computer science education, workforce development, and connections to industry – for school-aged youth as well as residents with nontraditional pathways;
an ever-growing number of tech startups by founders of color;
an inclusive tech sector that strengthens the City's character and fabric; and
modeling what we learn and experience beyond Oakland.
Since our 2013 pivot from the our family foundation roots, we no longer seek unsolicited grant requests/proposals. Instead we're most interested in building partnerships that will advance our impact goals, which usually occur through action-oriented roundtables and collaboratives rather than singular organizations. We look forward to engaging with community members in our expanded networks to discuss ideas and partnership potential.
We initiate change:
The Community Engagement team is deep in the mix of bringing together players to prompt action and positive impacts for Oakland. With a range of collaborators from industry and community, we create and/or support game-changing initiatives that open up tech pathways and entrepreneurship opportunities for everyone, including the Tech Equity Collaborative, Tech Talent Pathways Partnership (T2P2), Oakland Computer Science for All, and the Oakland Startup Network.
We bring people together:
Our new home at 2148 Broadway is a destination for gatherings at the intersection of tech, impact, and Oakland! We engage in partnerships and event sponsorships that create robust dialogues and learning opportunities on varied topics and audiences. Check out our upcoming events.
We are all about Oakland:
Oakland is our home, a city whose diversity, scrappy reputation, history of social justice, and proximity to Silicon Valley sets it up perfectly to be the epicenter of the social impact tech ecosystem. We want Oaklanders to directly benefit from the opportunities that the tech sector offers and for the tech sector to benefit from Oakland's unique civic personality and assets. Together with our partners, we will establish Oakland as the epitome of a city that "does tech right" by creating access and opportunities for its residents.
Research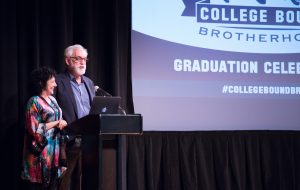 Our technology inclusion work is driven by research and data. Like tech companies themselves, we are constantly evaluating our performance, testing theories and implementing new strategies for diversifying the technology ecosystem.
The Tech Inclusion Research Team at the Kapor Center for Social Impact (KCSI) takes a strategic, scientific and actionable approach to enhancing the diversity and inclusiveness of the technology and entrepreneurship ecosystem.
Current research projects include:
Tech Leavers Study
To address the underrepresentation by race/ethnicity and gender in the tech sector, it is necessary to examine the leaks in the pipeline that occur due to workplace attrition in order to understand the relationship between attrition and underrepresentation in tech. With funding from the Ford Foundation, the Tech Inclusion Research Team will expand upon previous studies (Corporate Leavers Survey, 2007; Hidden Bias in IT Workplaces, 2010), to conduct a study of Tech Leavers, or individuals who "voluntarily" leave positions in tech companies and those who leave the tech sector altogether. View the Tech Leavers Study.
Research on STEM and Computer Science Intervention Programs
The Kapor Center and the Level Playing Field Institute have conducted a series of research studies on barriers to participation and persistence in STEM and Computer Science (see: http://www.lpfi.org/research/). The Tech Inclusion Research Team will continue to collaborate to examine: The Impact of NSF-Funded Computer Science Interventions, Race and Gender Stereotypes in STEM, Computer Science Participation and Motivation among Girls of Color, The Impact of Peer Networks and Role Models in the Pursuit of STEM Degrees, and Culturally Responsive and Intersectional Frameworks for STEM Interventions.
Landscape Studies
We conduct research and analyses of barriers across the region, state, and nation to contribute to our understanding of equity and opportunity in STEM and computing. The Kapor Center will be completing a report examining barriers across the tech pipeline in Fall 2016, and in the process of conducting research on barriers to diversity within tech companies, disparities in access to AP STEM courses, and retention and degree completion in computer science in higher education throughout 2016.
Applied Research
We utilize existing social science research to facilitate collaborations between researchers and tech professionals and implement applied solutions, develop resources and tools to disseminate effective practices, and work strategically across the ecosystem to promote incremental changes in diversity and inclusion. Current activities include: the Hidden Bias in Tech Research Prize, trainings on unconscious bias, diversity, and inclusion, and knowledge sharing and community building among Diversity Advocates.
Evaluation
To examine the impact of Kapor Center interventions at various stages across the tech ecosystems, the Tech Inclusion Research Team designs, conducts, and disseminates evaluations of our SMASH Academies serving underrepresented high school students, the activities and strategies implemented by the community engagement team.