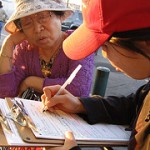 This year, more than ever, underrepresented people of color have come out in record numbers to get involved in the national political process. The Mitchell Kapor Foundation is thrilled to be able to support the efforts of organizations that have done much in the way of amplifying that involvement and in helping to make sure that all our votes are being counted.
In an earlier blog, we mentioned the important work of Video the Vote in documenting any irregularities that may take place as we all try to make our votes count. Also, for a second presidential election cycle, the Mitchell Kapor Foundation is hosting the Lawyers' Committee for Civil Rights Under Law as they corral as many legal professionals as possible throughout the nation to answer calls and assist voters on Election Day. During the 2004 election cycle, this organization mobilized 25,000 trained volunteers, including 8,000 legal volunteers, to monitor polling places, educate voters, provide legal support to poll monitors, and to answer the 1-866-OUR-VOTE voter services Hotline.
As Election Day gets closer many have been looking to us for ways to help out with this historic election. First of all, if you are eligible to do so, be sure to register to vote. In California, your voter registration must be postmarked no later than October 20, 2008 to be eligible for this year's presidential election!
For those who are looking for various ways to volunteer to support this year's election, CLICK HERE TO TAKE ACTION!
Photo by Korea Resource Center via Flickr.